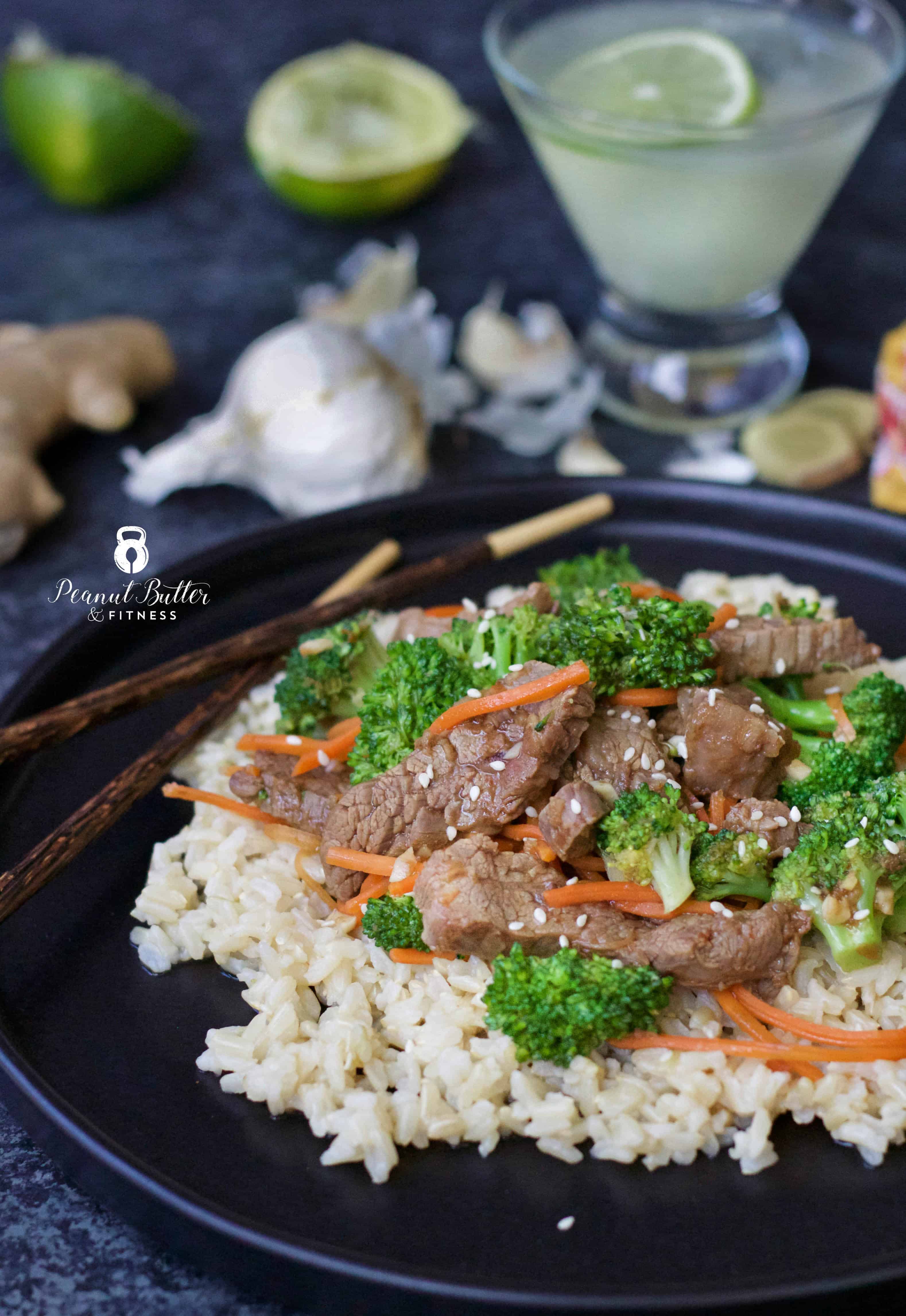 Happy President's Day! I'm pretty pumped to have the extra day off this weekend because I'm sooooo close to being finished with my second eBook and I just want to get after it. Only one recipe left to photograph and a tiny bit of writing before I go into full edit mode. I'm also happy to be almost finished so I can get back to my blog! This Beef and Broccoli Stir Fry is the perfect recipe to celebrate my return…honestly I kinda impressed myself with it. It's got that great umami flavor/balance.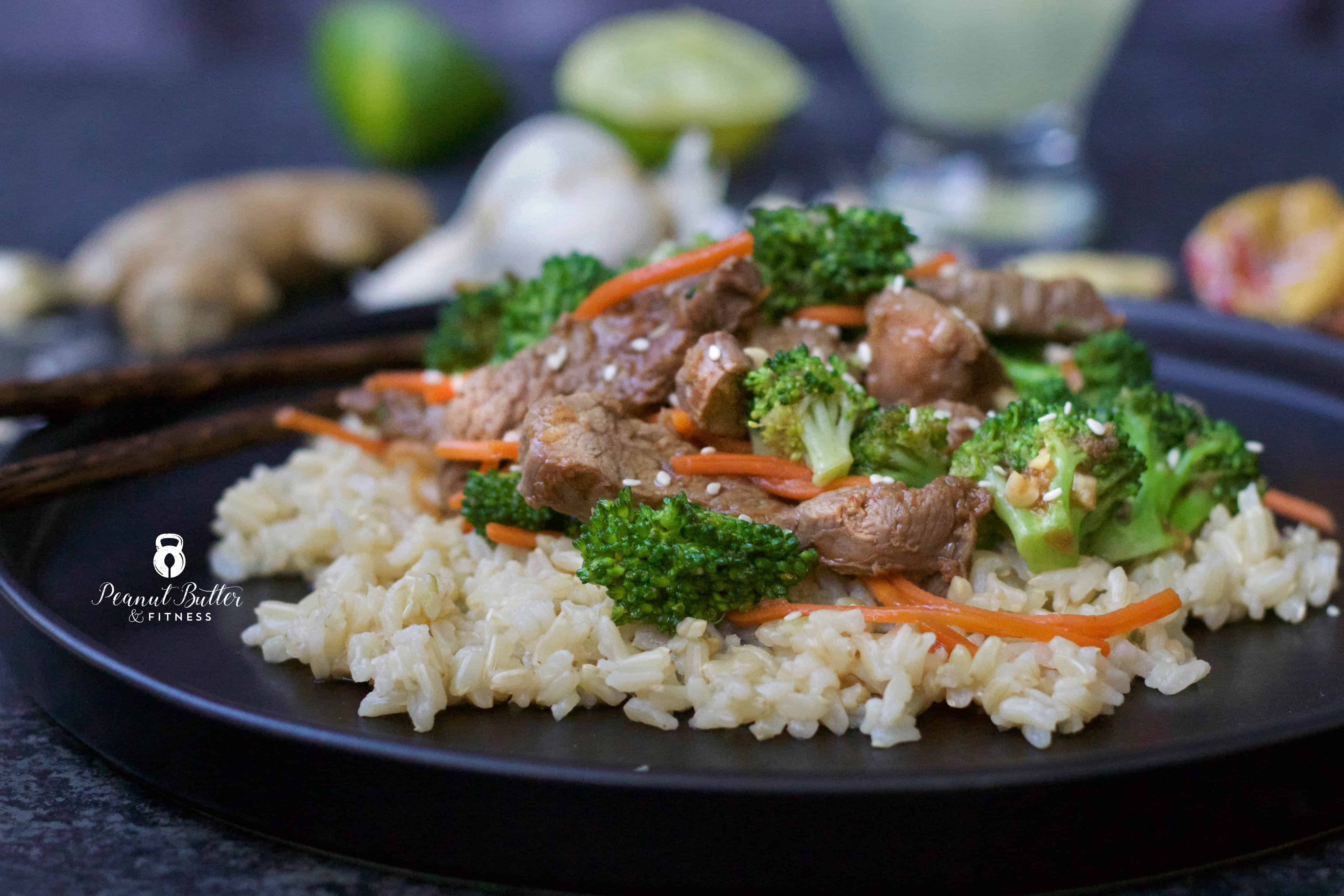 Now, one thing to be aware of with this recipe is the oyster sauce specifically – it gives this dish the incredible umami flavor but you have to be careful when picking out a brand because a lot of them are packed with MSG. Don't worry though, there are still plenty that don't have any MSG. Wok Mei is the brand you can find at Whole Foods and is a pretty safe bet.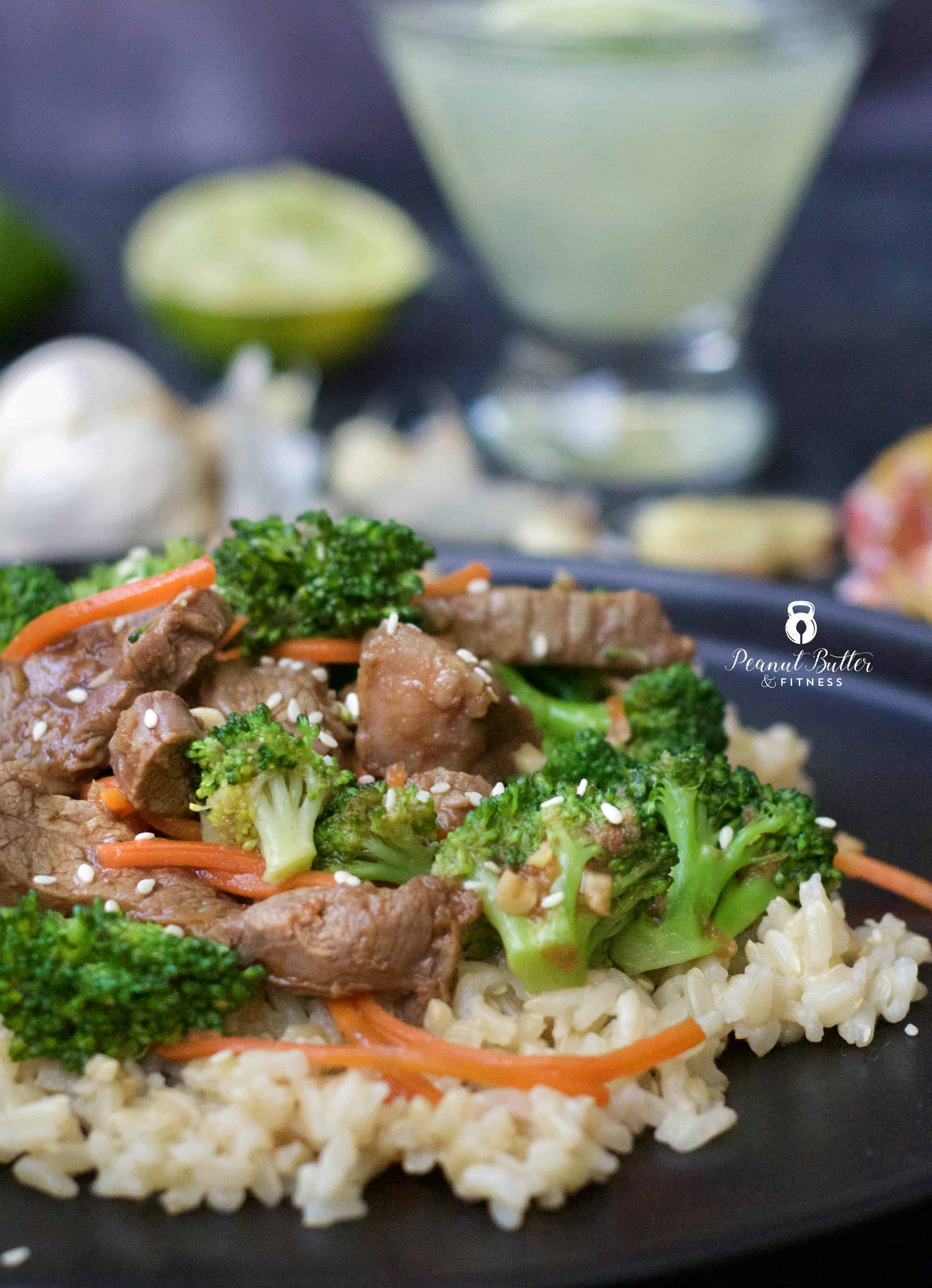 I served my Beef and Broccoli Stir Fry with a nice little ginger lime cocktail that's not exactly Asian but still really delicious and goes well with the dish. Just shake up the juice of one lime with 1/2 tsp grated ginger, a shot of clear liquor of your choice (sake, vodka or tequila work great), and ice. Pour it into a glass and top it off with ginger beer. Yum 🙂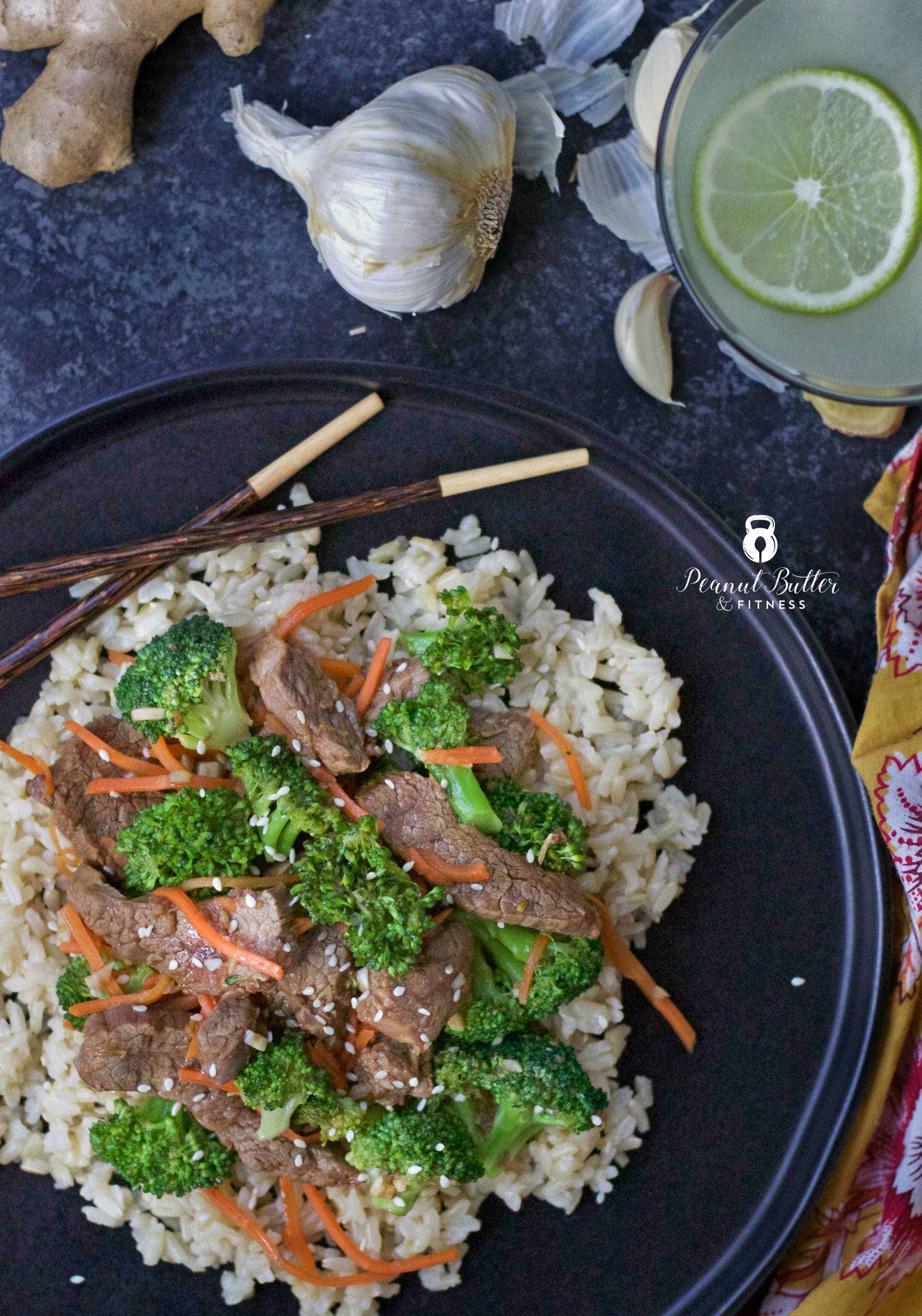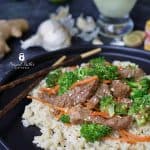 Beef and Broccoli Stir Fry
Prep Time 40 minutes
Cook Time 15 minutes
Total Time 55 minutes
Servings 4 servings
Calories per serving 421 kcal
Ingredients
Marinade
3 tbsp low sodium soy sauce
1 tbsp Sriracha sauce
1 tbsp grated ginger
1 tsp oyster sauce
2 cloves garlic minced
Sauce
1/4 cup beef bone broth
2 tbsp honey
1 tbsp oyster sauce
1 tbsp rice wine vinegar
2 tsp arrowroot flour
1 tsp sesame oil
Other Ingredients
1 lb flank steak sliced thinly against the grain
4 cups broccoli florets
2/3 cup brown Basmati rice
2 tbsp water
2 cloves garlic minced
1 tbsp grated ginger
1/2 tbsp olive oil
1 tsp sesame oil
1/4 tsp red pepper flakes
Instructions
Whisk together all marinade ingredients and pour over sliced flank steak in resealable bag. Marinate in the refrigerator at least 1 hour.

Cook rice according to package directions.

Heat 1 tsp sesame oil over high heat. Add garlic, ginger, red pepper flakes and sauté until fragrant.

Add broccoli and carrots to sautéed garlic and toss. Add water. Cover with a lid for 2-3 minutes until broccoli turns bright green and is tender crisp. Set broccoli aside in a bowl.

Add olive oil to pan and heat until very hot. Add beef and sauté while tossing for 4-5 minutes until almost cooked. Add sauce and continue to stir and cook for 2-3 minutes as sauce boils and thickens and steak cooks through.

Remove from heat and toss with broccoli mixture. Serve over top of rice and garnish with sesame seeds and sliced green onions if desired.
Recipe Notes
Be sure to check the label of your oyster sauce to make sure it doesn't contain MSG!
Nutrition Facts
Beef and Broccoli Stir Fry
Amount Per Serving
Calories 421 Calories from Fat 126
% Daily Value*
Fat 14g22%
Cholesterol 75mg25%
Sodium 577mg25%
Potassium 344mg10%
Carbohydrates 45g15%
Fiber 5g21%
Sugar 14g16%
Protein 31g62%
* Percent Daily Values are based on a 2000 calorie diet.