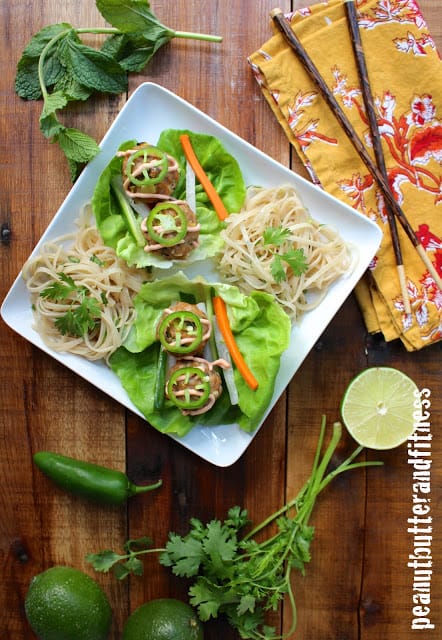 I've noticed that I've been making a lot of Asian inspired food for my meal prep lately…is San Francisco rubbing off on me?  Or is it just the fact that I see so many Asian ingredients at the grocery stores here?  IDK.  I certainly didn't make this much Asian food when I lived in Miami (but I also didn't make much Latin food).  Maybe it's because I've been working on an Asian food truck part time?
Anyways, I'm cool with this shift in my culinary repertoire because honestly…it's delicious.  And when I see people around me crunching into Banh Mi sandwiches at the park, I get pretty jealous and come up with a way to make it healthy at home.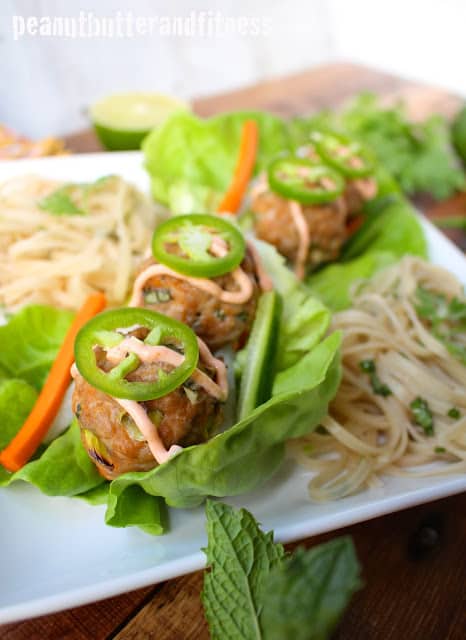 I paired up my Banh Mi lettuce wraps with some brown-rice-noodle-based spring roll salad.  When I ate it, I actually mixed in more pickled veggies but I didn't want to cover up the noodles for their photo shoot.  Traditionally, spring rolls would be made with rice vermicelli but I used these
pad Thai noodles
because they were made with nothing but brown rice and water.  Rice vermicelli is out in force at all the grocery stores around here, but you will most likely be able to find them in the Asian section of your grocery store.  If not, take yourself on a trip to your local Asian grocery store…you're bound to have a good time looking through all their goodies.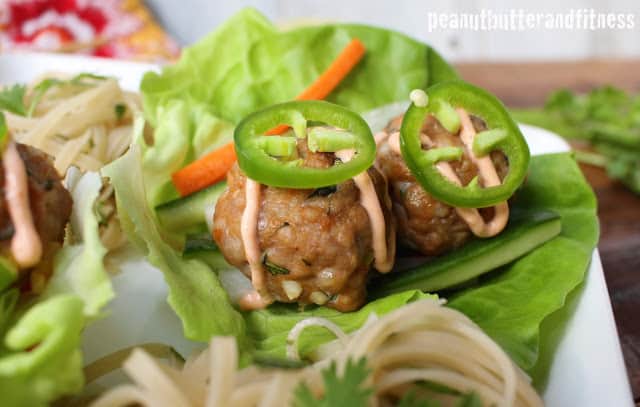 Don't be intimidated by how long the ingredients list is!  Most of the ingredients in each category are repeats from one of the other categories.  But there is plenty of chopping and dicing to be done, so find your kitchen helper and get cooking!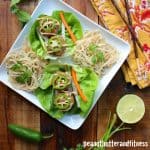 Banh Mi Meatball Lettuce Wraps with Spring Roll Salad
Prep Time 1 hour
Cook Time 20 minutes
Total Time 1 hour 20 minutes
Servings 6
Calories per serving 348 kcal
Ingredients
Meatball Ingredients:
1 1/2 lbs 95% extra lean ground pork
1/4 cup green onion chopped
2 tbsp basil chopped
1 tbsp cilantro chopped
4 cloves garlic minced
1 1/2 tbsp fish sauce
1 tbsp sriracha
1 tbsp arrowroot flour
2 tsp Truvia
Sesame oil for drizzling
Pickled Veggies:
3 medium carrots julienned
2 small cucumbers julienned
1 1/2 cups daikon radish julienned
1/3 cup unseasoned rice vinegar
3 tbsp Truvia
1 tsp salt
Wrap Ingredients:
12 leaves butter lettuce
1/2 small jalapeño thinly sliced
1/4 cup nonfat plain Greek yogurt
1 tbsp sriracha
Spring Roll Salad Ingredients:
6 oz brown rice noodles or rice vermicelli
1 tbsp cilantro chopped
1 tbsp jalapeño finely chopped
1/2 tbsp mint chopped
1/2 tbsp basil chopped
3 cloves garlic minced
1/3 cup lime juice
2 tbsp unseasoned rice vinegar
1 1/2 tbsp sesame oil
1 tbsp fish sauce
1 tbsp coconut sugar
Instructions
Whisk together Greek yogurt and 1 tbsp sriracha. Set aside in refrigerator.

Combine all picked veggie ingredients in a bowl in set aside on counter, occasionally tossing for about 1 hour.

Make garlic lime sauce for spring roll salad by combining garlic, lime juice, rice vinegar, sesame oil, fish sauce and coconut sugar. Set aside.

Pre-heat oven to 425 degrees. Line a baking sheet with SILPAT or parchment paper.

Mix all meatball ingredients together by hand until just combined. Roll into 1 inch meatballs and place on prepared baking sheet. Drizzle or spritz with sesame oil. Bake at 425 degrees for 15-18 minutes or until the meatballs reach an internal temperature of 145 degrees.

While the meatballs are baking, bring a medium pot of water to the brink of boiling, then remove from heat. Add rice noodles to the water for about 2 minutes and 30 seconds. Remove from hot water and rinse with cold water. Immediately toss with garlic lime sauce, cilantro, jalapeño, mint and basil.

Assemble lettuce wraps by layering pickled veggies and meatballs onto lettuce leaves. Top with sriracha and Greek yogurt mixture and sliced jalapeños. Add remaining pickled veggies to spring roll salad (not pictured).
Nutrition Facts
Banh Mi Meatball Lettuce Wraps with Spring Roll Salad
Amount Per Serving
Calories 348 Calories from Fat 90
% Daily Value*
Fat 10g15%
Cholesterol 55mg18%
Sodium 725mg32%
Potassium 400mg11%
Carbohydrates 37g12%
Fiber 5g21%
Sugar 8g9%
Protein 29g58%
* Percent Daily Values are based on a 2000 calorie diet.