Banh Mi Fish Tacos.  Yes, you read that right.  A couple months ago, I went to this little New England restaurant here in San Antonio (yes, you read that right too) and had these amazing banh mi fish tacos along with a bunch of oysters.  As with just about any of my restaurant food obsessions, I had to try to recreate it at home.  I remember how much I loved the brightness of the fresh herbs on top of grilled fish, combined with the crunch and tang of quick pickled veggies.  And then some sriracha mayo on top brought the whole thing together.  So. Dang. Delicious.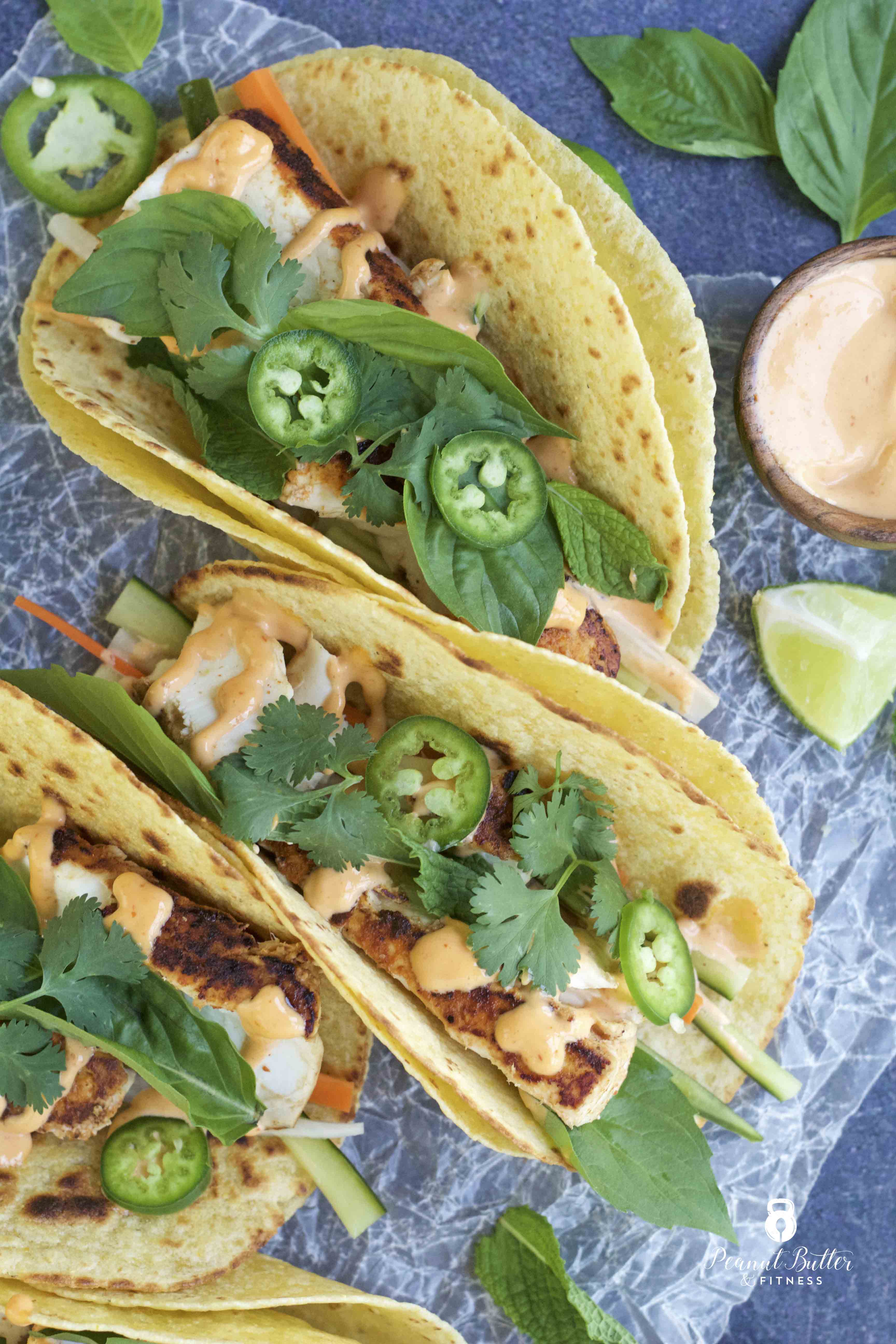 I chose to use halibut as my fish because it's nice and meaty, yet still tender and doesn't have too much of it's own flavor.  Just about any white fish would work, depending on your preferences.  Mahi mahi, tilapia, snapper, grouper, cod…whatever you like.
Oh, and I found these awesome mixed corn and flour tortillas at HEB and I'm in love!  They're the perfect mix – they have some of the great corn tortilla flavor with the added flexibility of flour tortillas.  Give them a try if you can find them!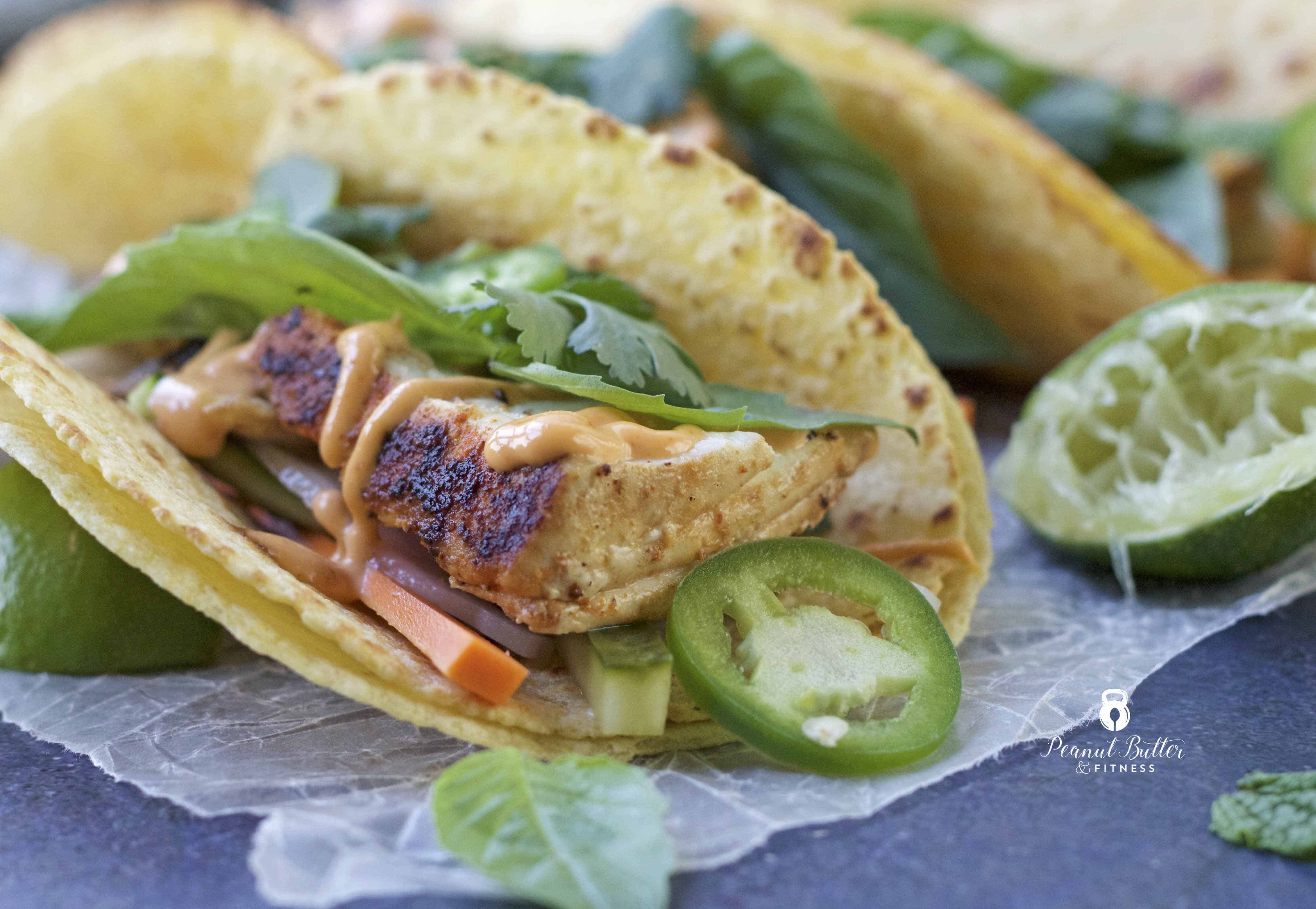 Banh Mi Fish Tacos
Prep Time 30 minutes
Cook Time 15 minutes
Total Time 45 minutes
Servings 8 tacos
Calories per serving 230 kcal
Ingredients
1 lb raw halibut, skin removed
8 HEB 6" Mixtla Corn and Flour tortillas
1 1/2 tbsp low sodium soy sauce
1 tbsp rice vinegar
1/2 lime juiced
1/2 cup Thai basil leaves loosely packed
1/2 cup mint leaves loosely packed
1/2 cup cilantro leaves loosely packed
Pickled Vegetables
2 large carrots, peeled & julienned (150 grams)
1 medium cucumber, julienned (250 grams)
1 small daikon radish, peeled & julienned (250 grams)
1 cup water
1/2 cup rice vinegar
2 tbsp sugar
2 tsp salt
Sriracha Mayo
1/4 cup mayonaise
2 tbsp sriracha
1 tsp garlic powder
Instructions
Place julienned vegetables in a resealable jar. Heat water in microwave for about 2 minutes until boiling. Add sugar, salt, and rice vinegar, then stir until the sugar and salt is dissolved. Pour over vegetables in jar and allow to pickle overnight.

Place halibut in a shallow bowl and top with soy sauce, rice vinegar, and lime juice. Flip halibut so that all sides are coated with sauce. Marinate for 30 minutes in the refrigerator.

Heat a non-stick pan over medium-high heat. Add a small amount of sesame or olive oil to the pan if desired, then place halibut in pan and cover immediately. Cook for about 5 minutes before flipping and continuing to cook through on the other side until fish flakes apart easily. (Your cooking time will depend on the thickness of your fish - mine was about 2" thick and took about 10 minutes total.)

Mix sriracha mayo ingredients until combined and set aside.

Toast tortillas in a shallow pan or on a griddle until heated through and slightly browned.

Layer tortillas with fish, pickled vegetables, basil/mint/cilantro, and sriracha mayo. Serve immediately.
Nutrition Facts
Banh Mi Fish Tacos
Amount Per Serving
Calories 230 Calories from Fat 81
% Daily Value*
Fat 9g14%
Cholesterol 33mg11%
Sodium 514mg22%
Potassium 203mg6%
Carbohydrates 20g7%
Fiber 2g8%
Sugar 4g4%
Protein 16g32%
* Percent Daily Values are based on a 2000 calorie diet.