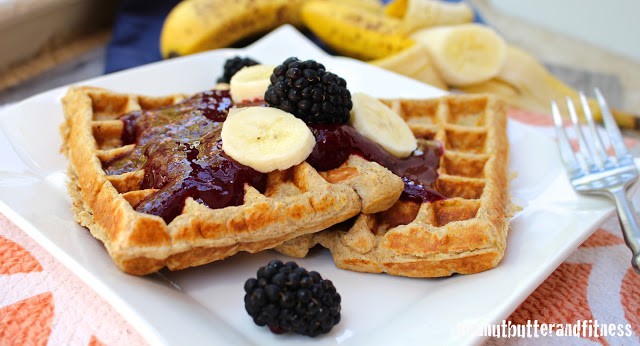 Happy 4th of July! I apologize that this isn't red, white and blue food…but I had to use up these blackberries and was all out of strawberries!  I also apologize that I failed to take a picture of these babies with this amazing Greek yogurt/coconut milk mix on top :/  It really made the waffles but the light didn't go off in my head to use it as a waffle topping until after I had already dug in.  I promise, it was really pretty and delicious.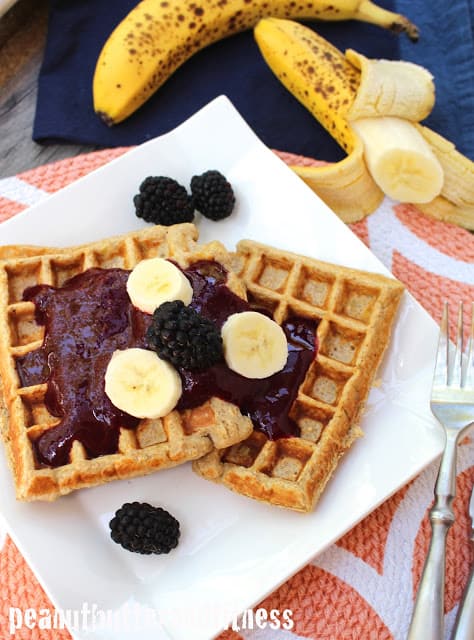 Now I feel responsible for telling you how to make this Greek yogurt/coconut milk deliciousness (not pictured)…because trust me, you want it.  I first experienced it as "frosting" on a watermelon cake that someone made for me 🙂  As in, a huge chunk of watermelon cut into the shape of a cake, topped with this frosting, toasted coconut and mango.  It was awesome.  I ended up with some of the frosting leftover in my refrigerator and now I have a new obsession!  So anyways, here's how it's made: Stick a can of full fat coconut milk in the refrigerator overnight.  Drain off the coconut water the next day so you're left with the thick coconut milk.  Mix it up about half and half with vanilla Greek yogurt.  Tada!  That's it.  The nuttiness of the coconut milk cuts the sweetness of the Greek yogurt and makes it a little thinner – such a unique flavor and perfect for dipping some fruit in or adding on top of your waffles!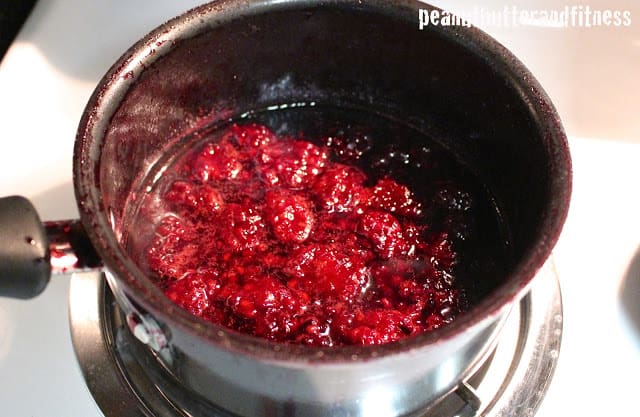 Don't mind the blackberry sauce that is literally everywhere on this little pot…I had a little incident when I was not paying attention and it boiled over.  Lovely.  After you boil the blackberries for about 5-8 minutes, you should be able to pretty easily mash them so that you get all the juice out of them.  If you want more of a blackberry syrup rather than a sauce, take the empty blackberry hulls out of the syrup and keep boiling the juice by itself until it starts to thicken up.  I wanted more of a sauce so I pureed all of it and just removed the seeds.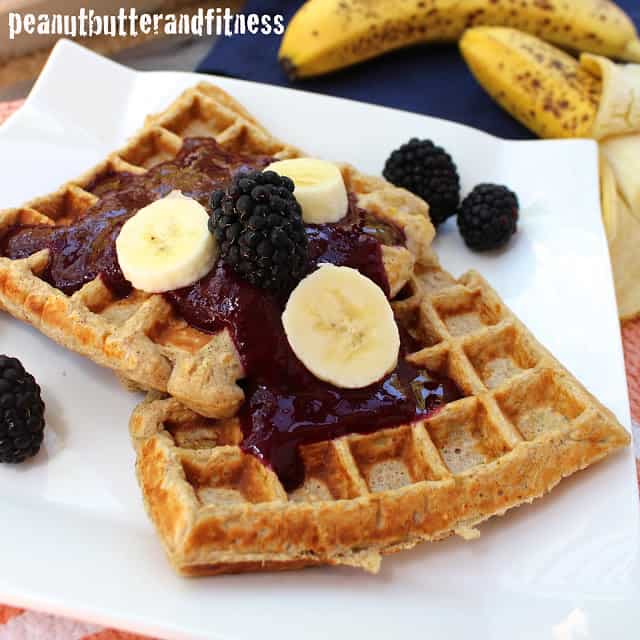 Banana Protein Waffles with Blackberry Sauce
Servings: 1 • Calories: 374 • Fat: 5 g • Protein: 29 g • Carbs: 59 g • Fiber: 12 g • Sugar: 22 g • Sodium: 291 mg • Cholesterol: 18 mgIngredients:
Bring blackberries, maple syrup and lemon juice to a boil over medium-high heat, then lower heat to a rolling simmer for 10-15 minutes or until you can easily mash the blueberries and the juice has begun to thicken into a syrup.
Puree the blackberries and juice until smooth.  Pour through a strainer into a bowl to remove blackberry seeds, then set syrup aside in refrigerator.
In a food processor or NutriBullet, mill the oats until they form a fine powder.  Mix with all other dry ingredients, then add wet ingredients (except blackberry sauce) and combine until smooth.
Spray waffle maker with non-stick cooking spray and spoon oat mix onto waffle maker.  Cook for 3-4 minutes or until golden brown.
Plate waffles and top with blackberry sauce.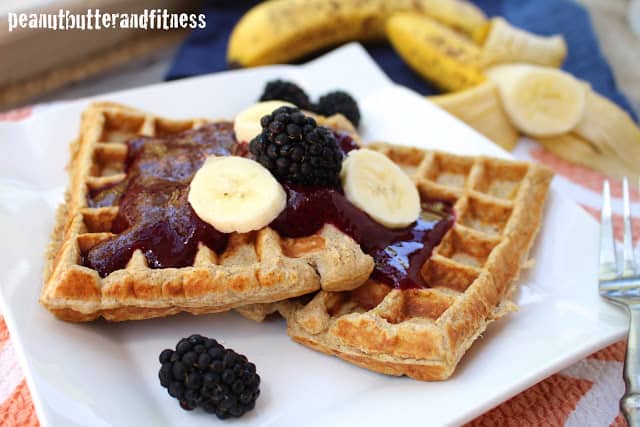 This kind of makes me want to try my hand at making blackberry ice cream…I don't know why I liked it so much as a kid, but it was just one of those awesome summer treats that was always around.  Was it just popular in Pennsylvania??  I don't make a habit of perusing the ice cream section at the grocery store but I might just have to check it out next time to see if they carry it on the West coast…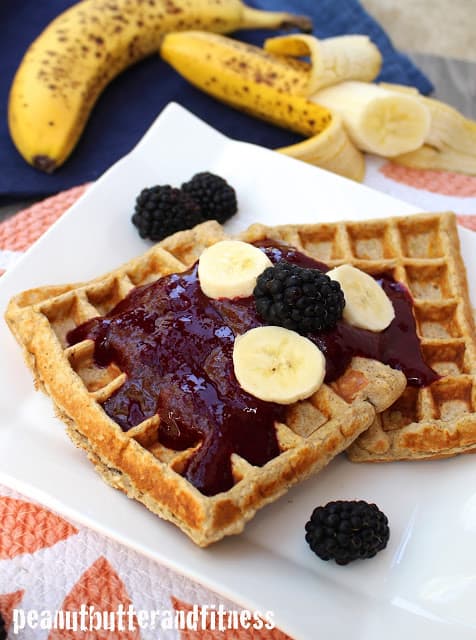 I used a
little square waffle
maker for these, but circle ones are cool too.  Just make sure yours has removable, dishwasher safe cooking plates like mine 🙂