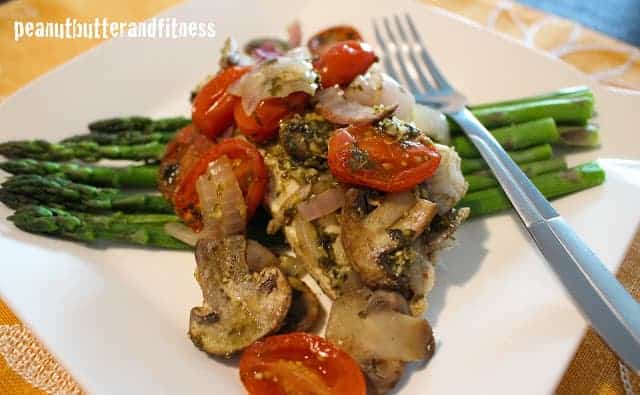 This is a perfect dish for meal prepping! Lots of flavor and the toppings keep the chicken moist even after reheating, plus it's still clean.  I got the inspiration from Pinterest but changed it up just a bit.  Then I put it on top of some steamed asparagus for more veggies 🙂  Gotta fuel them legs after my long run this morning.
The sauce that you put on top is basically a pesto, but it's quick and easy to throw together and stick it in the oven.  If you're making it for dinner after work you could cut up the tomatoes and make the sauce, then throw it all in the baking dish when you get home.
Servings: 5 • Calories: 179 • Fat: 5 g • Protein: 25 g • Carbs: 7 g • Fiber: 1.3 g • Sugar: 2 g • Sodium: 200 mg • Cholesterol: 65 mg 
Ingredients:
5 boneless, skinless chicken breasts
4 cloves garlic
1 cup fresh basil
1 tbsp olive oil
1 tbsp balsamic, plus more for drizzling
1 tbsp pine nuts
1/4 cup low sodium chicken broth
1 cup sliced mushrooms
1 package cherry tomatoes, halved
1/2 medium red onion, sliced
Salt and pepper
Preheat oven to 375 degrees.
In a food processor or Nutribullet, combine garlic, basil, olive oil, 1 tbsp balsamic vinegar, chicken broth and pine nuts.  Pulse until almost smooth.
Add chicken breasts to a glass baking dish.  Top with mushrooms, tomatoes, onion and basil mixture.
Drizzle a bit more balsamic vinegar over all of it, then sprinkle some salt, pepper and a little oregano on top.
Bake for 35 minutes or until chicken is cooked through.