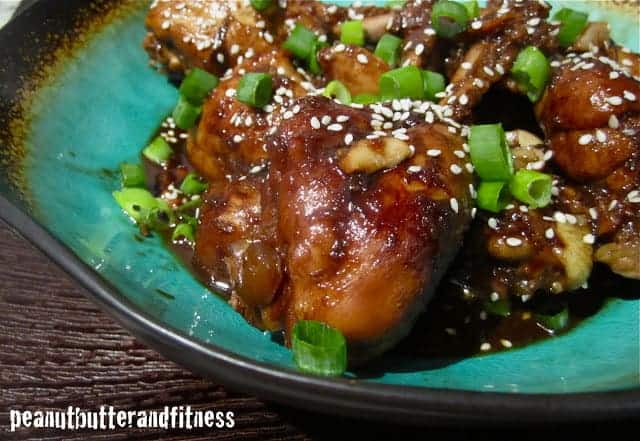 I've been craving some Asian food lately, so who do I turn to? Skinnytaste of course! I wanted something that didn't involve pasta or rice, so I decided to give these chicken drumsticks a try. It seemed like they might be a little complicated to make, but really the hardest part is getting the skin off the drumsticks. Bleh. Gross.
Once I managed to do that it was pretty simple.
Even with the low sodium soy sauce, I thought the glaze was a tad salty. Next time I think I might go for a little less balsamic vinegar and hope it doesn't mess with the consistency of the glaze. I served mine with some baked broccoli and carrots. It was a perfect pairing with the glaze! Yumm. Just be careful how long you let this one sit in the refrigerator – the glaze turns to some sort of jelly-like weirdness. I'd say 2-3 days in the fridge is the max. Overall, I'd say this was a winner – maybe not for meal prep though 🙁
Here's the recipe from Skinnytaste:
Asian Glazed Drumsticks
Servings: 4 • Serving Size: 2 drumsticks • Old Points: 5 pts • Points+: 5 pts
Calories: 213 • Fat: 4.7 g • Protein: 27.5 g • Carb: 12.7 g • Fiber: 0.4 g
Ingredients:
8 medium chicken drumsticks, skin removed
olive oil spray
1 cup water
1 tbsp Sriracha hot sauce (it's the one we call cock sauce in Key West – due to the rooster on the bottle, of course)
1/3 cup balsamic vinegar
1/3 cup low sodium soy sauce
1 tbsp honey
3 cloves garlic, crushed
1 tsp ginger, grated
2 tbsp chives or scallions, chopped
1 tsp sesame seeds
Directions:
In a heavy large saucepan, brown chicken on high for 3-4 minutes with a little spray oil. Add water, balsamic, soy sauce, honey, garlic, ginger, hot sauce and cook on high until liquid comes to a boil.
Reduce heat to low and simmer, covered for about 20 minutes. Remove cover and bring heat to high, allowing sauce to reduce down, about 8-10 minutes, until it becomes thick, turning chicken occasionally. (Keep an eye on glaze, you don't want it to burn when it start becoming thick)
Transfer chicken to a platter and pour sauce on top. Top with chives and sesame seeds and serve.