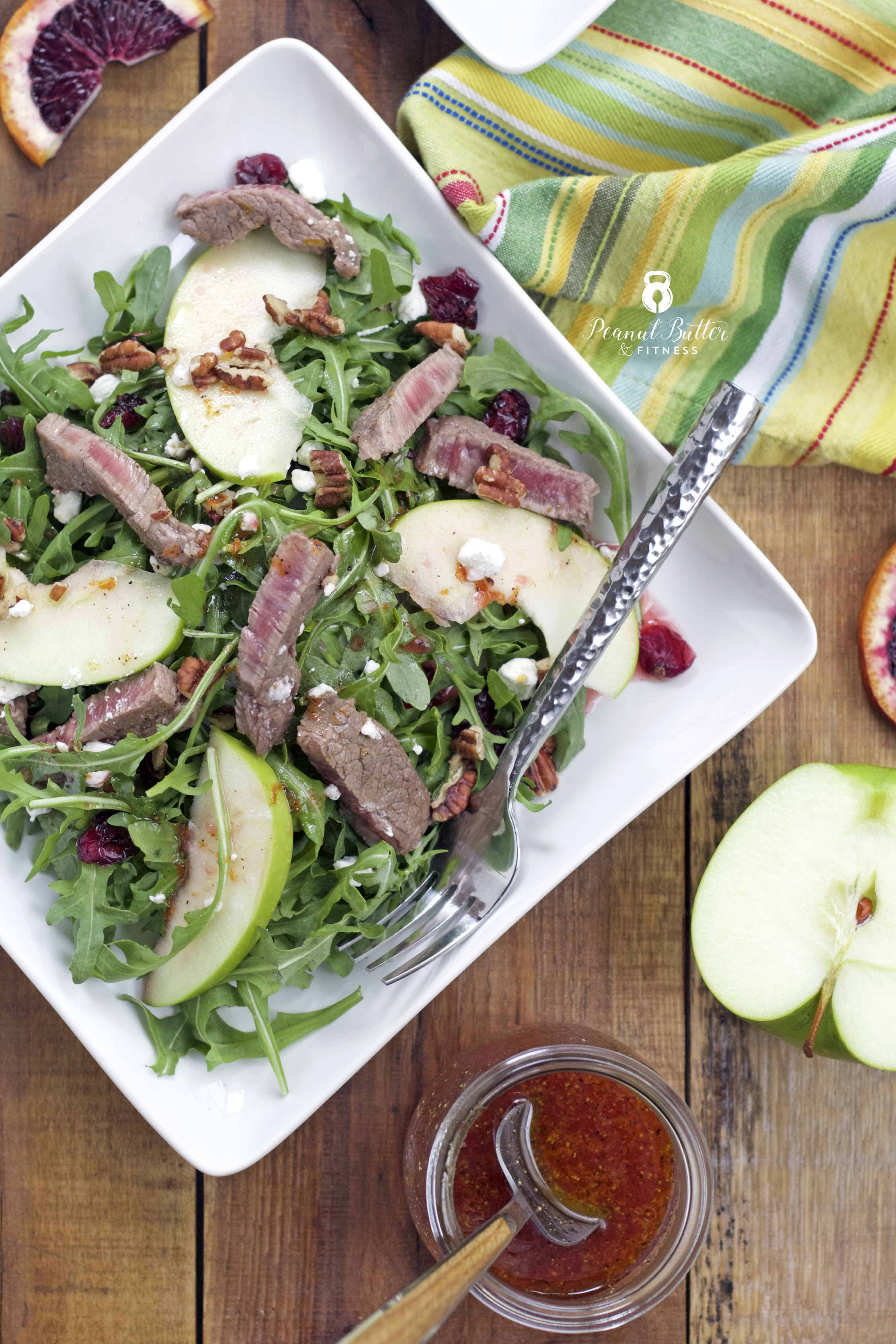 Ahh, the weekend has arrived 🙂  Hopefully everyone is recovering nicely from their St. Paddy's day shenanigans.  I went out early and was in bed by 10pm, so I'm up and at it this morning with some exciting new blog content in the works for the next couple of weeks!  This post is actually about a week overdue, considering that it's a recipe from last week's meal prep.  I actually already posted the recipe, but this hearty yet refreshing steak salad deserves it's own spotlight.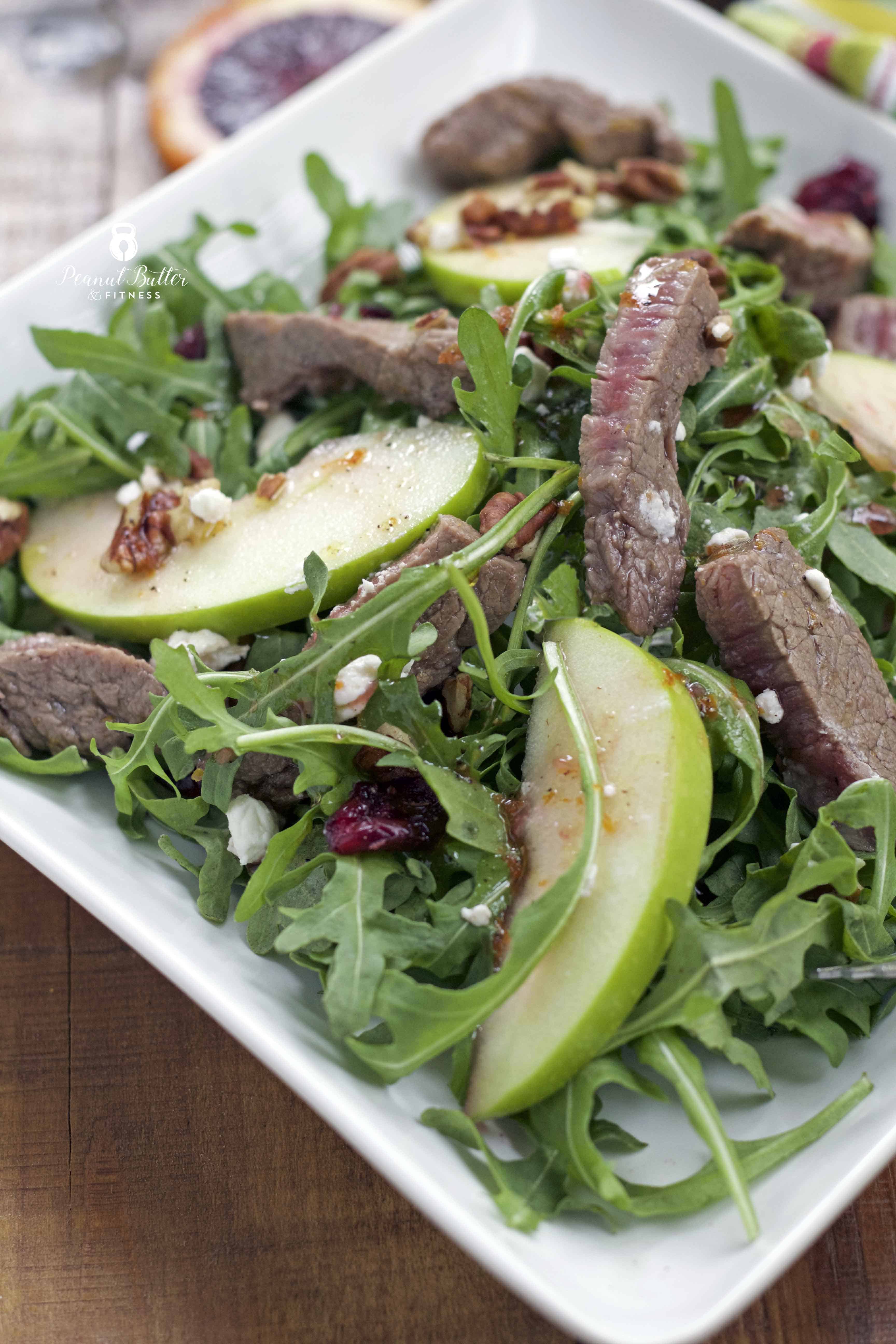 I used some of the few remaining blood oranges that I could find to make the citrus vinaigrette for the salad.  I love them because their juice is so bright and refreshing, not to mention the pretty pink color!  You can certainly use a regular orange if you can't find blood oranges anymore since we're coming to the tail end of their prime season.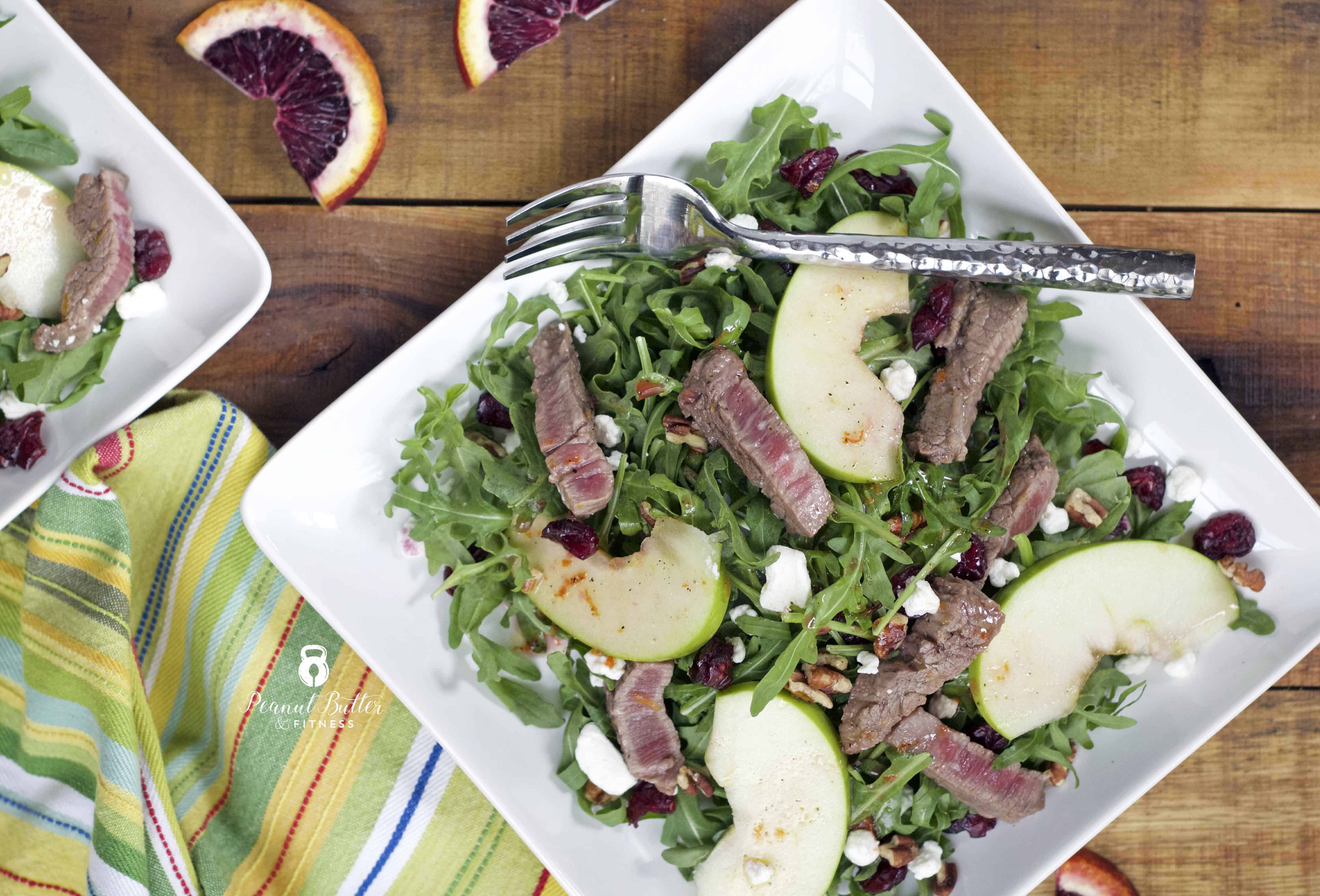 If you plan to use this recipe for meal prep, just be sure to toss the apples in a bag with a bit of fresh squeezed lemon juice to keep them from browning throughout the week.  Mine did great even after a full 5 days in the refrigerator!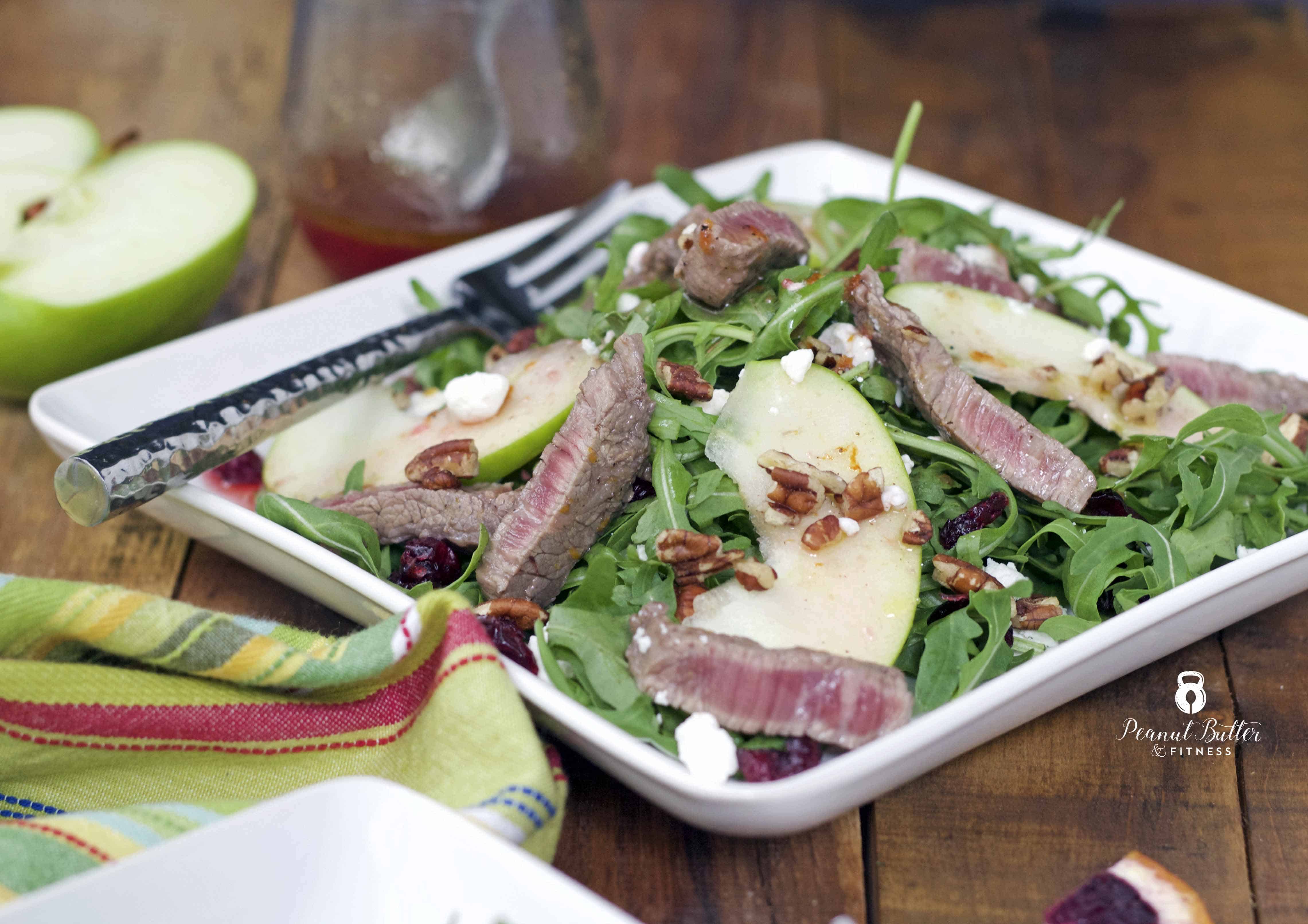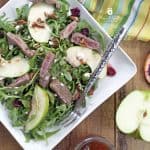 Arugula Steak Salad with Citrus Vinaigrette
Prep Time 20 minutes
Cook Time 10 minutes
Total Time 30 minutes
Servings 2 servings
Calories per serving 391 kcal
Ingredients
1/2 lb flank steak excess fat trimmed and sliced thinly against the grain
4 cups arugula
1/2 green apple cored and sliced
1/4 cup reduced sugar dried cranberries
3 tbsp goat cheese crumbles
2 tbsp chopped pecans
Citrus Vinaigrette
2 tbsp blood orange juice
1 tbsp olive oil
1 tbsp red wine vinegar
1 tbsp lime juice
1 tsp orange zest
Salt and pepper to taste
Steak Marinade
2 tbsp blood orange juice
1 tbsp red wine vinegar
1 tbsp lime juice
1/2 tbsp olive oil
1 tsp orange zest
2 cloves garlic roughly chopped
Salt and pepper
Instructions
Whisk marinade ingredients and pour over sliced steak in a resealable container. Refrigerate for at least 1 hour.

Whisk vinaigrette ingredients and set aside.

Assemble arugula, sliced green apple, dried cranberries, pecans and goat cheese in serving dish.

Heat large pan over medium-high heat. Add steak and cook until just barely cooked through, about 5-7 minutes. Serve on top of salad and top with vinaigrette.
Recipe Notes
Make this a grill friendly recipe by marinating the flank steak whole and grilling for about 5 minutes per side.  Allow to rest about 10 minutes before slicing thinly against the grain.
Nutrition Facts
Arugula Steak Salad with Citrus Vinaigrette
Amount Per Serving
Calories 391 Calories from Fat 189
% Daily Value*
Fat 21g32%
Cholesterol 76mg25%
Sodium 133mg6%
Potassium 626mg18%
Carbohydrates 27g9%
Fiber 7g29%
Sugar 15g17%
Protein 27g54%
* Percent Daily Values are based on a 2000 calorie diet.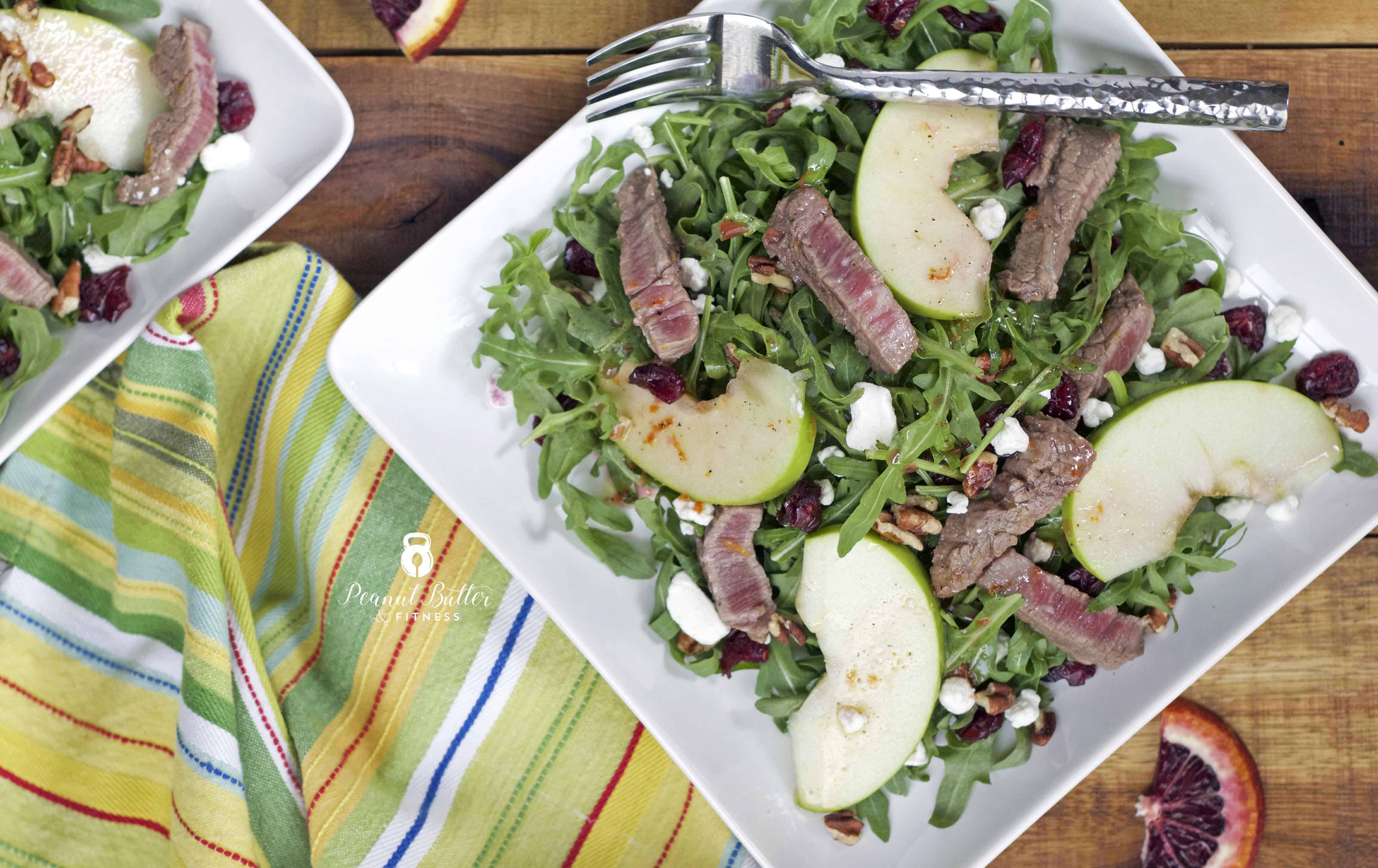 Here's a look at how I packaged up this salad to keep it fresh all week…I used these jumbo silicone muffin cups to hold the steak (bonus: you can stick them directly in the microwave).  Then I used little recyclable plastic containers for the goat cheese (not pictured) and the vinaigrette.  And I packaged it all up in a FitPacker container.