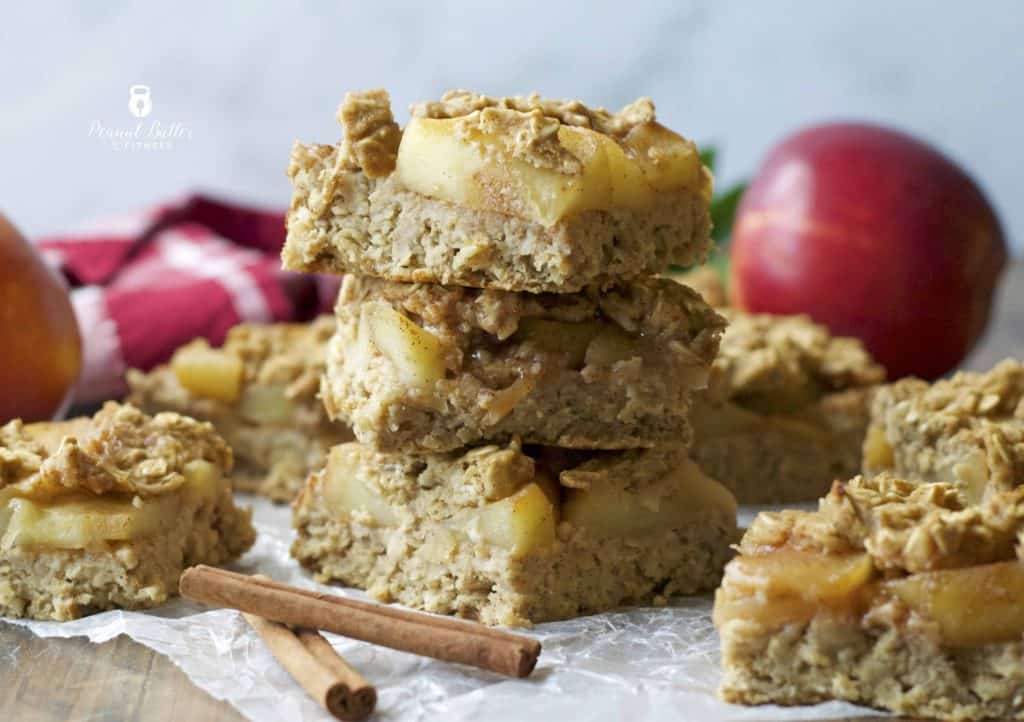 FALL IS COMING!!! Maybe not in south Texas where I am (still 100 degrees here), but I have it on good authority that temperatures in the northern half of the country are well on their way to autumn bliss. You know what that means…pumpkin spice flavored everything, hay rides, boots and sweaters, etc. All of those glorious things that I probably won't get to enjoy until November. But hey, I was in Michael's (the craft store) yesterday and went a little wild with the fall decor because I was so excited to see all of the fall goodies. You could say things are getting pretty serious 🙂
Anywho, I present to you my first fall-themed recipe of the season: Apple Cinnamon Oatmeal Bars! This is a play on my favorite meal-prep-able breakfast, the oatmeal muffin. The recipe is modified from the muffins just a bit to make it work in bar form.
Don't you love the look of having those dollops of dough on top of the layer of stewed apples?! Not only does it help hold everything together when you cut these bars up, but it's a super easy way to get some visual appeal. Give these guys a try and help me get the countdown to fall flavors started off on the right foot!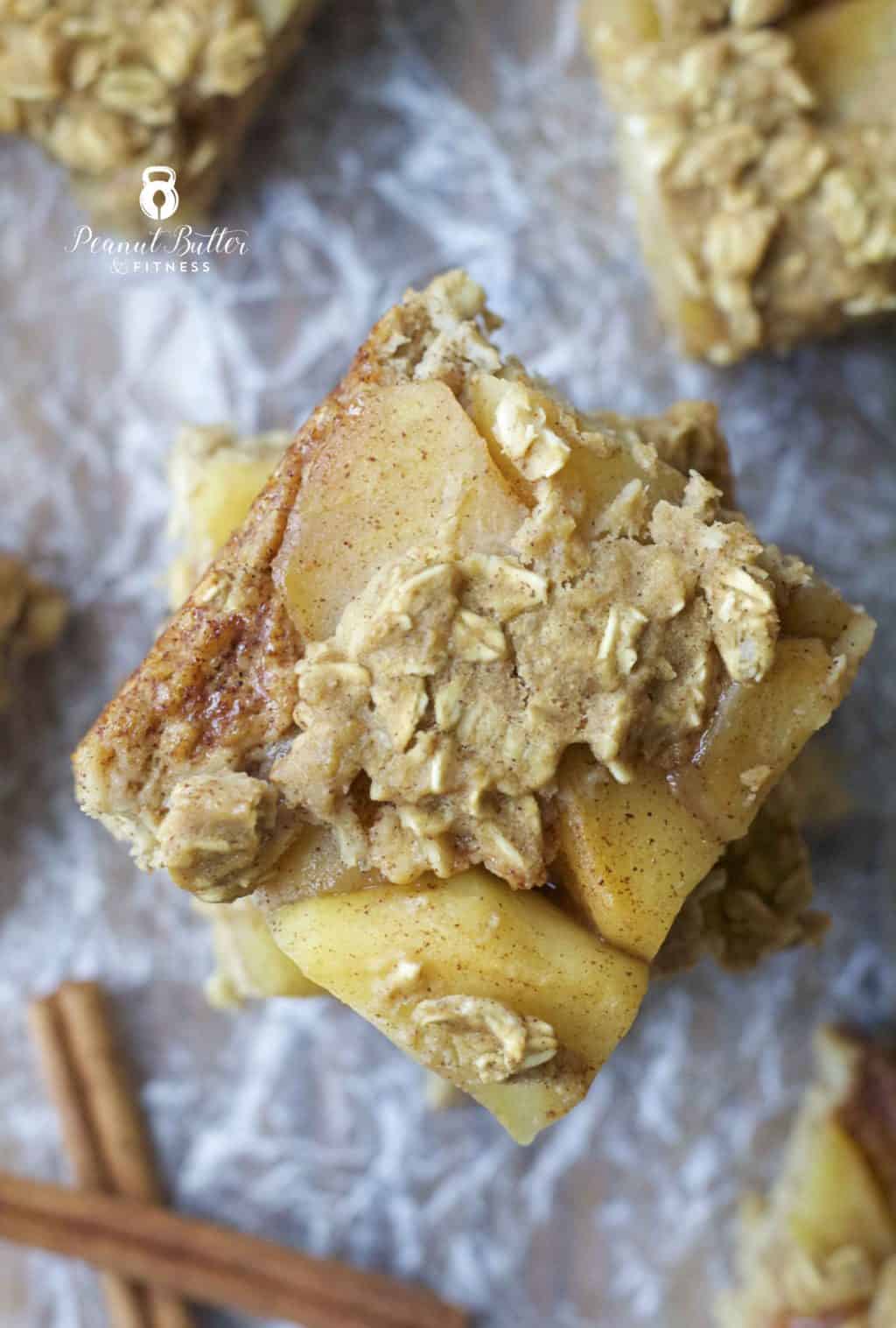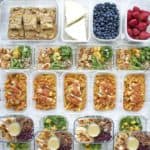 Apple Cinnamon Oatmeal Bars
Prep Time 15 minutes
Cook Time 30 minutes
Total Time 45 minutes
Servings 9 bars
Calories per serving 154 kcal
Ingredients
2 cups rolled oats
1 1/2 tsp cinnamon divided
1/2 tsp baking powder
1/2 tsp arrowroot flour
2 medium apples, peeled and sliced (300 grams)
1 cup unsweetened applesauce
1/2 cup unsweetened vanilla almond milk
1 egg
1 egg white
3 tbsp maple syrup divided
1 tbsp lemon juice
1/2 tsp vanilla extract
Instructions
Preheat oven to 350 degrees. Line a 8x8" baking dish with parchment paper.

Add sliced apples, 1/2 tsp cinnamon, lemon juice, and 1 tbsp maple syrup to a pan and bring to a boil over medium heat. Lower heat to a simmer for about 8-10 minutes. The apples should be tender but not soft.

Whisk 1/2 tsp arrowroot flour with 2 tbsp of cold water. Pour into apple mixture and stir immediately. Bring mixture back to a boil, then remove from heat, stirring occasionally. Set aside.

Mix remaining dry ingredients, then add wet ingredients and mix until combined.

Pour 3/4 of oat mixture into lined baking dish and spread evenly. Top with apple slices, then add spoonfuls of remaining oat mixture on top of apples. Bake for 30-35 minutes or until top begins to turn golden brown.

Allow bars to cool for at least 10 minutes, then remove to a cutting board using parchment paper. Slice into 9 pieces.

Top with peanut butter or maple syrup before serving, if desired.
Recipe Notes
If you'd prefer to use whey protein instead of plant-based, reduce the amount of almond milk you use by half.
Nutrition Facts
Apple Cinnamon Oatmeal Bars
Amount Per Serving
Calories 154 Calories from Fat 18
% Daily Value*
Fat 2g3%
Cholesterol 21mg7%
Sodium 74mg3%
Potassium 60mg2%
Carbohydrates 25g8%
Fiber 3g13%
Sugar 10g11%
Protein 9g18%
* Percent Daily Values are based on a 2000 calorie diet.