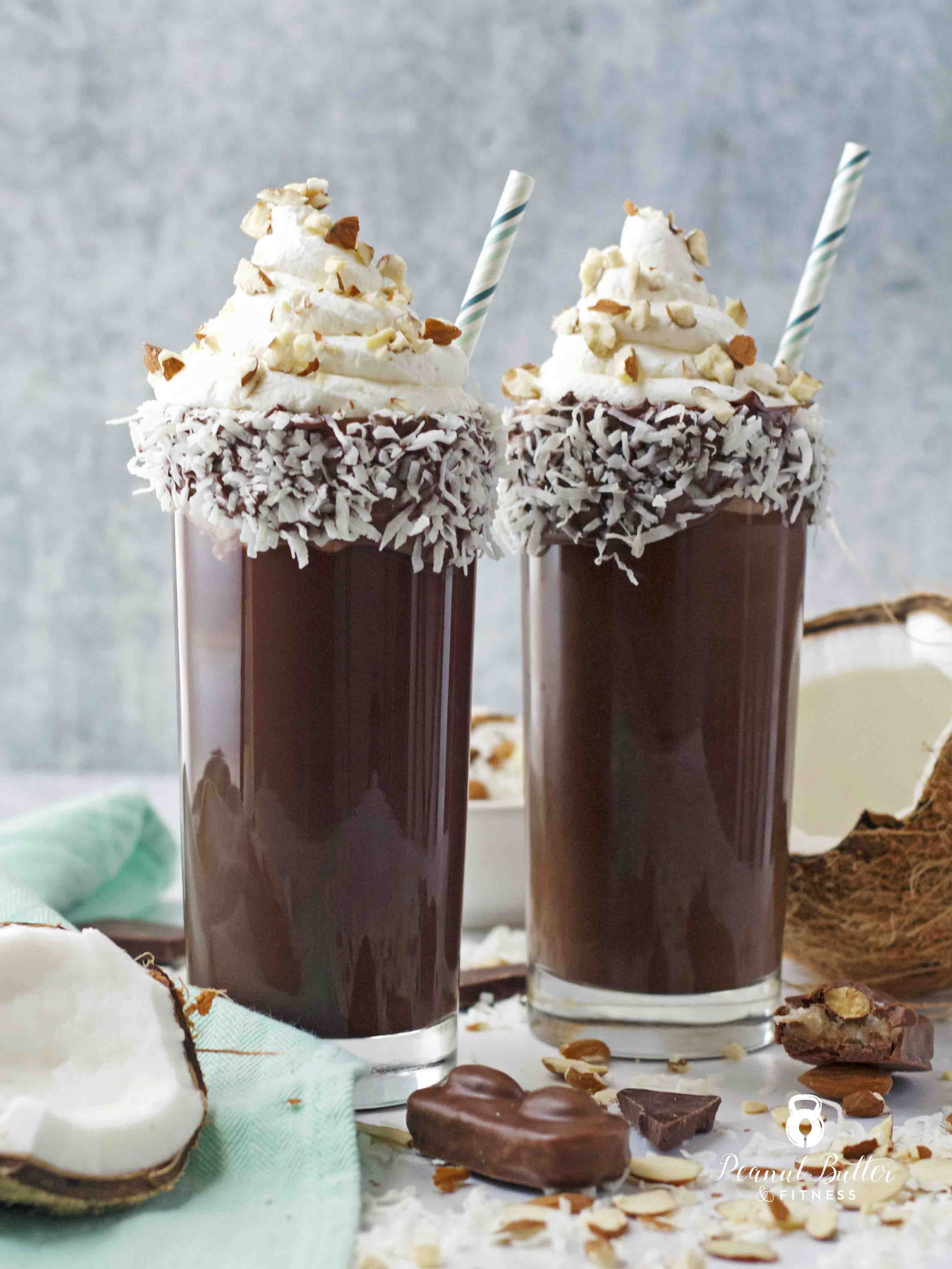 I know we're butting up against pumpkin spice latte (errr everything?) season, but isn't chocolate in style all year round? It's still a million degrees in Texas, so I'm passing on the warming spices and putting some coconut in my latte instead…so allow me to introduce you to this Almond Joy Protein Iced Latte! It's creamy and dreamy, packed with a protein punch thanks to the collagen and soy milk I used. And of course it wouldn't be an ode to an Almond Joy without that classic chocolate, coconut, and almond flavor combo.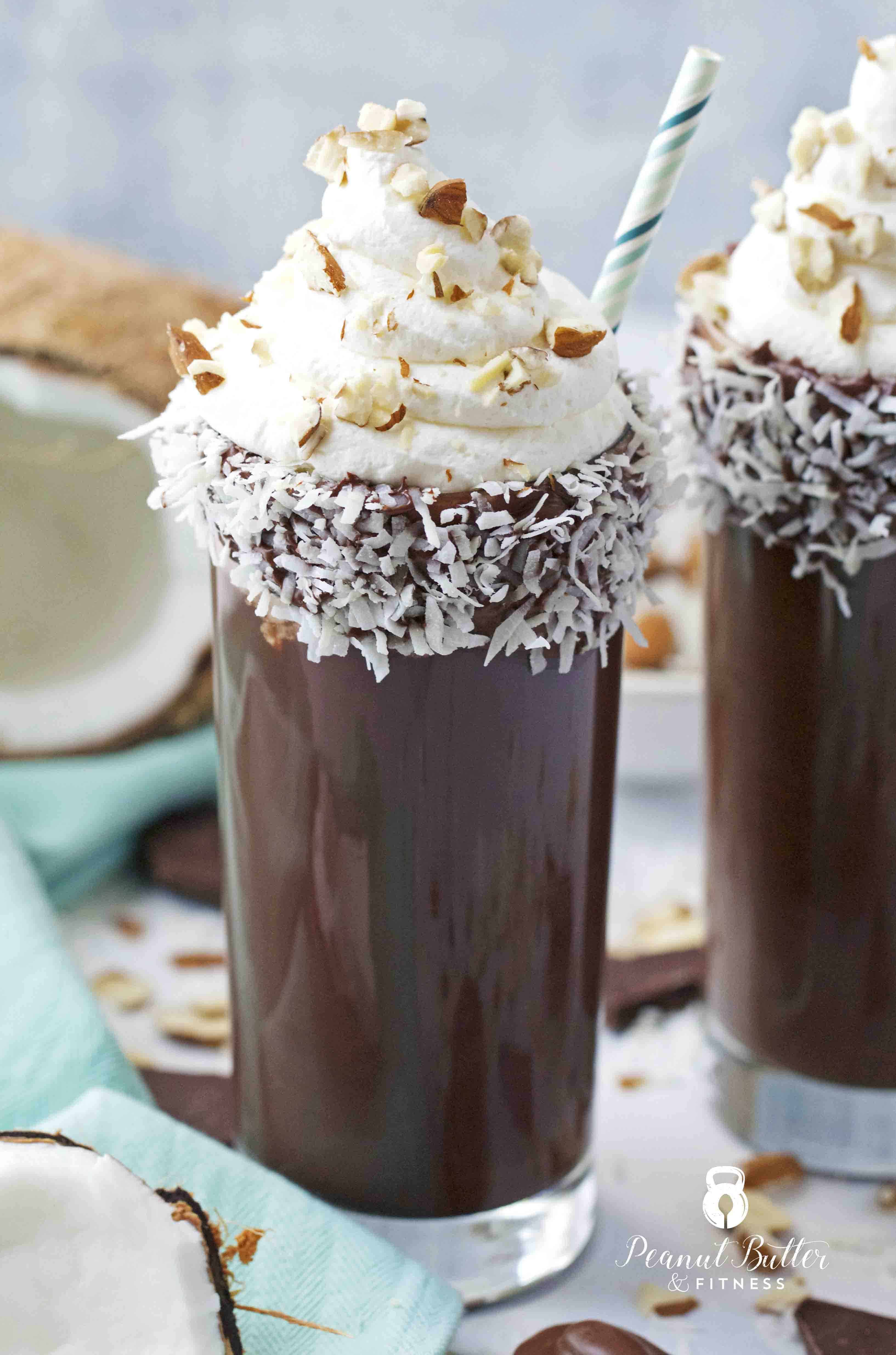 I made my own homemade coconut whipped cream, but if you want to cut down on fat calories, you could mix coconut extract into fat free Cool Whip or other whipped topping of choice. When I got a stand mixer a few months ago, one of the first things I made was whipped cream and I couldn't believe that I'd never made my own before! It's so stinking easy and tastes like heaven. If you haven't made your own yet (even if all you have is a hand mixer), it's time to give it a try.
Happy hump day!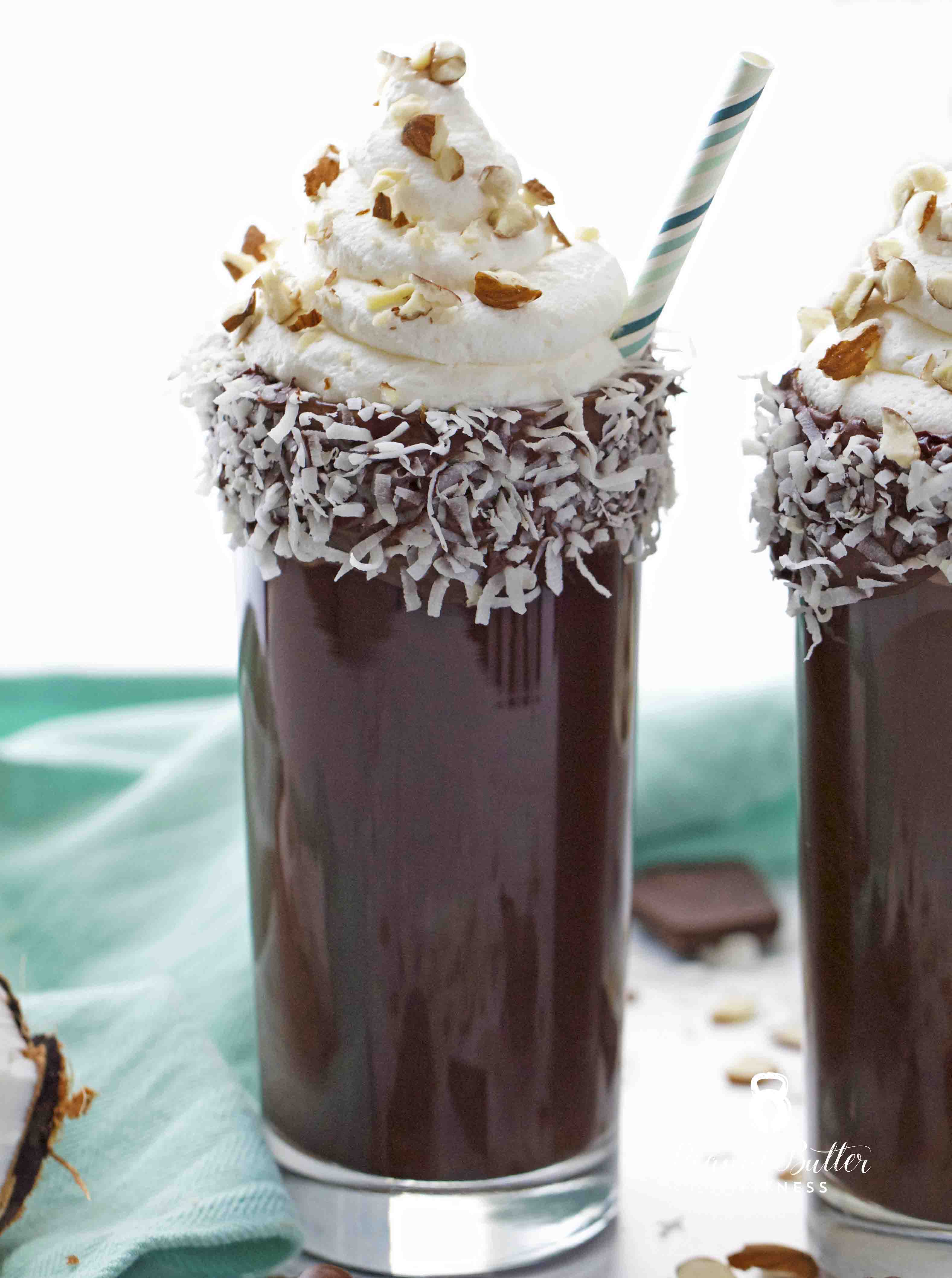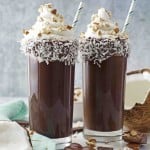 Almond Joy Iced Protein Latte
Prep Time 15 minutes
Total Time 10 minutes
Servings 2 servings
Calories per serving 226 kcal
Ingredients
Toppings
2 tbsp melted semi-sweet chocolate chips (42 grams)
2 tbsp unsweetened coconut flakes (22 grams)
Optional: coconut whipped cream (see recipe below), crushed unsalted roasted almonds
Instructions
Add all latte ingredients to a blender and blend until smooth.  Strain before pouring into serving glasses if any clumps remain. (You can also put it in a saucepan over medium heat and whisk.)

Spread coconut flakes out on a shallow plate.

Dip the outer rims of the serving glasses in melted chocolate, then roll them gently through the coconut flakes.

Divide the latte between the two serving glasses. Top with coconut whipped cream and crushed almonds, if desired.
Recipe Notes
I made the coconut whipped cream an optional topping (ie. not included in the nutrition info) so you could more easily make a lower calorie swap by using a fat free whipped topping or whatever you would like.
Nutrition Facts
Almond Joy Iced Protein Latte
Amount Per Serving
Calories 226 Calories from Fat 99
% Daily Value*
Fat 11g17%
Sodium 123mg5%
Potassium 340mg10%
Carbohydrates 18g6%
Fiber 5g21%
Sugar 12g13%
Protein 15g30%
* Percent Daily Values are based on a 2000 calorie diet.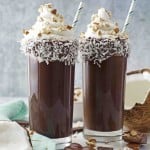 Coconut Whipped Cream
Servings 8 servings (1/4 cup each)
Calories per serving 93 kcal
Ingredients
1 cup light whipping cream (8 oz)
1 tbsp sugar (12 grams)
3/4 tsp coconut extract
Instructions
Add all ingredients to a stand mixer. Using the whisking attachment, whip for 3-4 minutes or until cream reaches desired consistency.
Nutrition Facts
Coconut Whipped Cream
Amount Per Serving
Calories 93 Calories from Fat 81
% Daily Value*
Fat 9g14%
Cholesterol 33mg11%
Sodium 10mg0%
Potassium 29mg1%
Carbohydrates 2g1%
Sugar 2g2%
Protein 1g2%
* Percent Daily Values are based on a 2000 calorie diet.