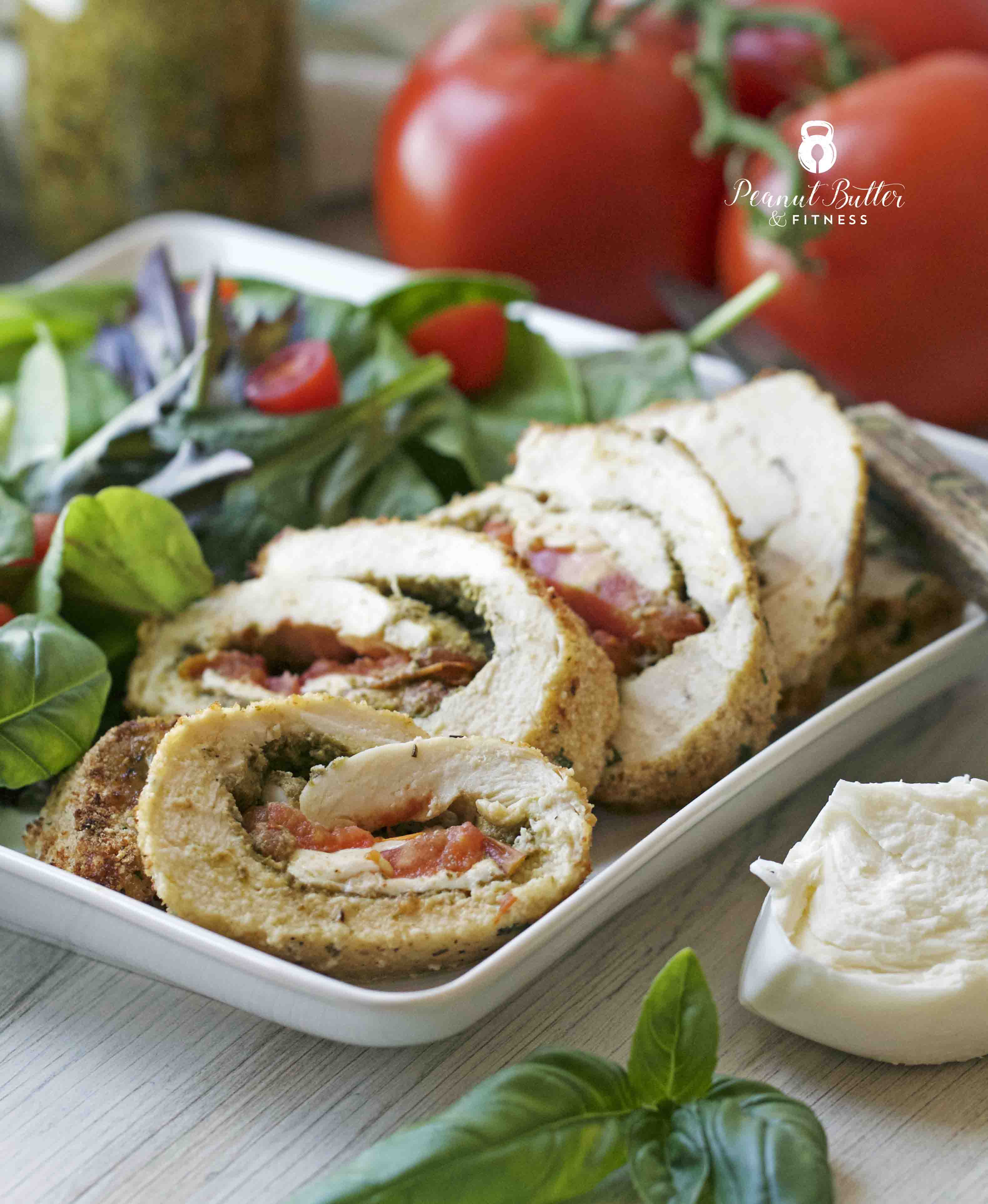 Hey PBF'ers! I'm coming at ya on a humpday with this amazing Air Fryer Stuffed Caprese Chicken. The chicken is crispy on the outside and juicy on the inside, with perfectly melty fresh mozzarella, basil pesto and roma tomato slices. #perfection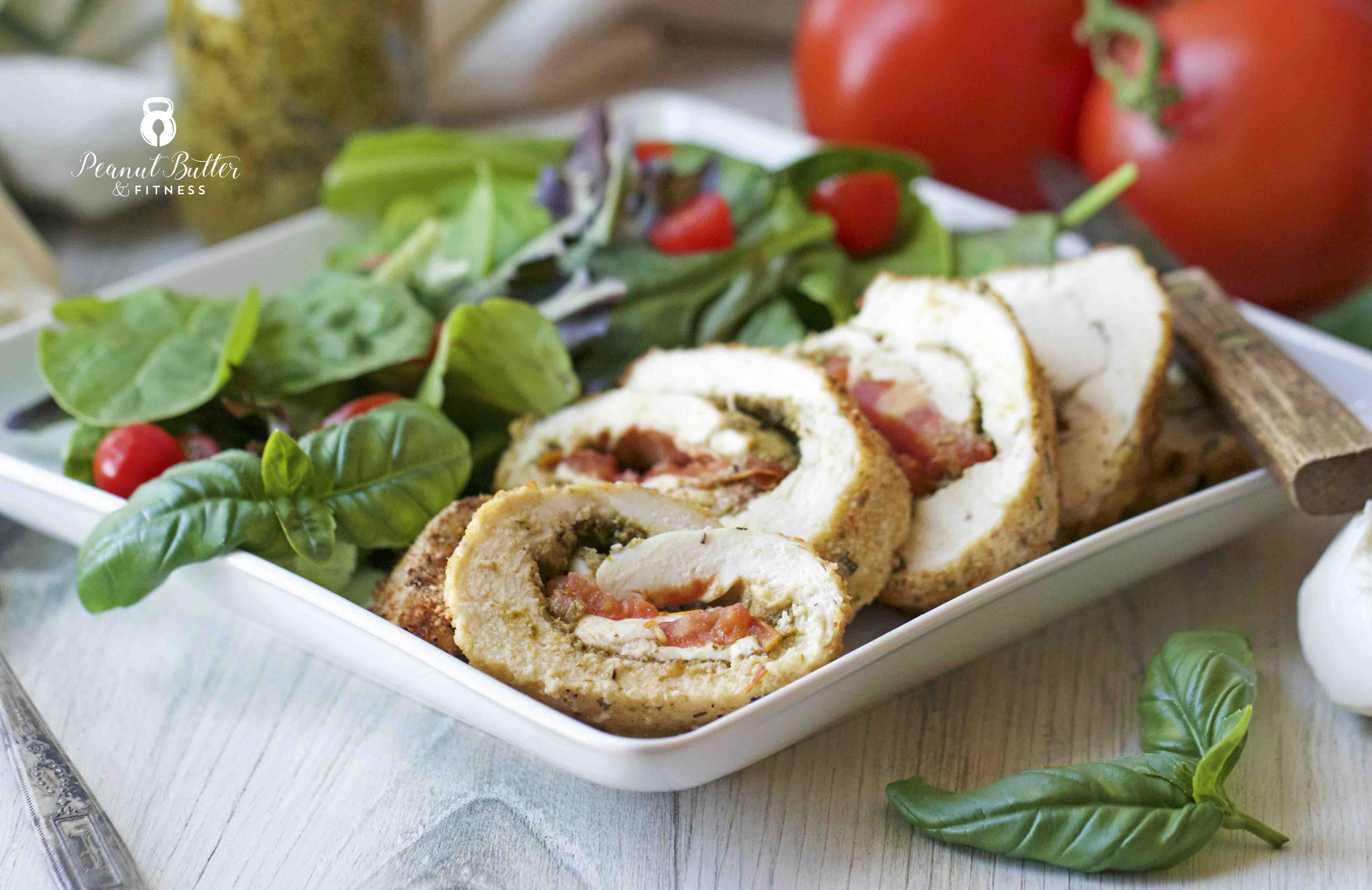 My favorite part about having an air fryer is that it's so convenient! Just turn it on, toss some chicken (or whatever other food) in the basket and in just minutes you've got golden brown deliciousness ready to go. With football season fast approaching, you probably are going to want to invest in one if you haven't yet. Just imagine how easy it can make entertaining…want some chicken nuggets? Done. Crispy fries or jalapeño poppers? Easy. Wings? Forget about it.
For now, you can just start with this Caprese Stuffed Chicken though 😉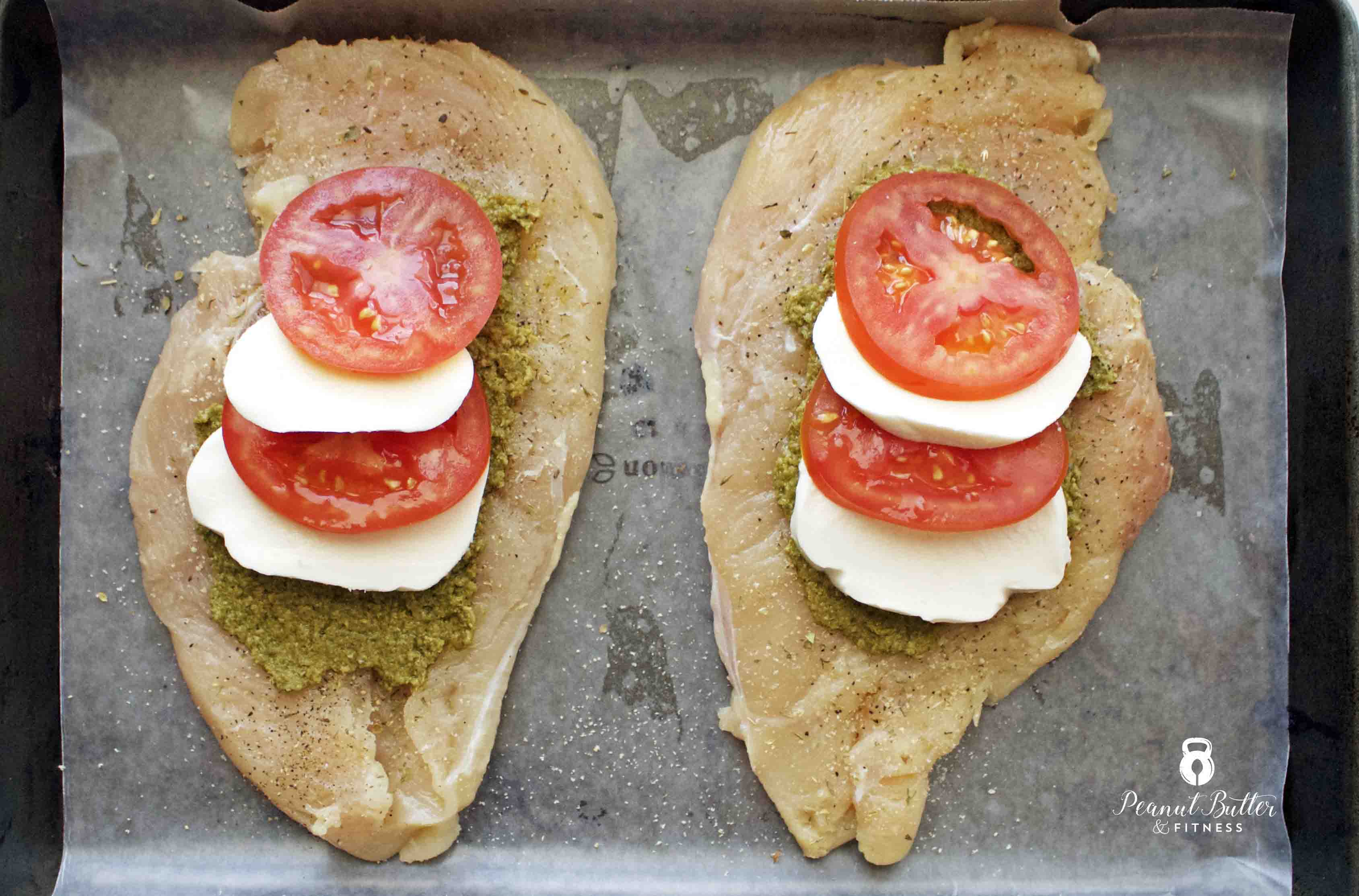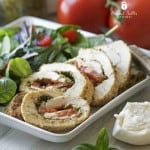 Air Fryer Stuffed Caprese Chicken
Prep Time 30 minutes
Cook Time 12 minutes
Total Time 42 minutes
Servings 4 servings
Calories per serving 356 kcal
Ingredients
1 1/2 lbs chicken breast (2 large breasts)
4 oz fresh mozzarella cheese, sliced ~1/4" thick
1 large roma tomato, sliced thinly (62 grams)
1/4 cup HEB Select Ingredients Basil Pesto (50 grams)
1 egg, beaten
1/3 cup Italian breadcrumbs (37 grams)
1/4 tsp salt
Instructions
Cut the chicken breasts in half (similar to butterflying), then cover in plastic or wax paper and pound the chicken until thin and has a consistent thickness throughout.

Season one side of the chicken breasts with salt and Flavor God Garlic Lover's Seasoning. Add 1 tbsp of pesto to each breast and spread evenly, then layer with mozzarella and tomato slices.

Roll chicken up so that the pesto, mozzarella, and tomato are contained inside. Use toothpicks to help hold the chicken rolled up and closed.

Pre-heat air fryer to 400 degrees.

Add egg to a bowl and whisk until beaten. Add breadcrumbs to a plate (you may want to put more than 1/3 cup on the plate to make coating the chicken easier, but you will only use about 1/3 cup on the chicken). Dip chicken in egg wash, then coat in breadcrumbs.

If desired, spray air fryer basket with oil (I didn't use any, but some air fryers are more non-stick than others). Place rolled and coated chicken in the basket, being careful not to overcrowd (I did two roll-ups at a time). Cook for 12-14 minutes or until the chicken is cooked through, flipping halfway if needed.

Serve with high quality balsamic vinegar or balsamic glaze, if desired.
Nutrition Facts
Air Fryer Stuffed Caprese Chicken
Amount Per Serving
Calories 356 Calories from Fat 126
% Daily Value*
Fat 14g22%
Cholesterol 175mg58%
Sodium 379mg16%
Potassium 54mg2%
Carbohydrates 9g3%
Fiber 1g4%
Sugar 1g1%
Protein 44g88%
* Percent Daily Values are based on a 2000 calorie diet.


It seems like there are a million air fryers on the market now, but this is the one that I have! It's probably a bit bigger than I need but it's great for when I have friends over. Although you don't need them for this recipe, don't forget to grab some accessory pieces for it if they're not included with the fryer.