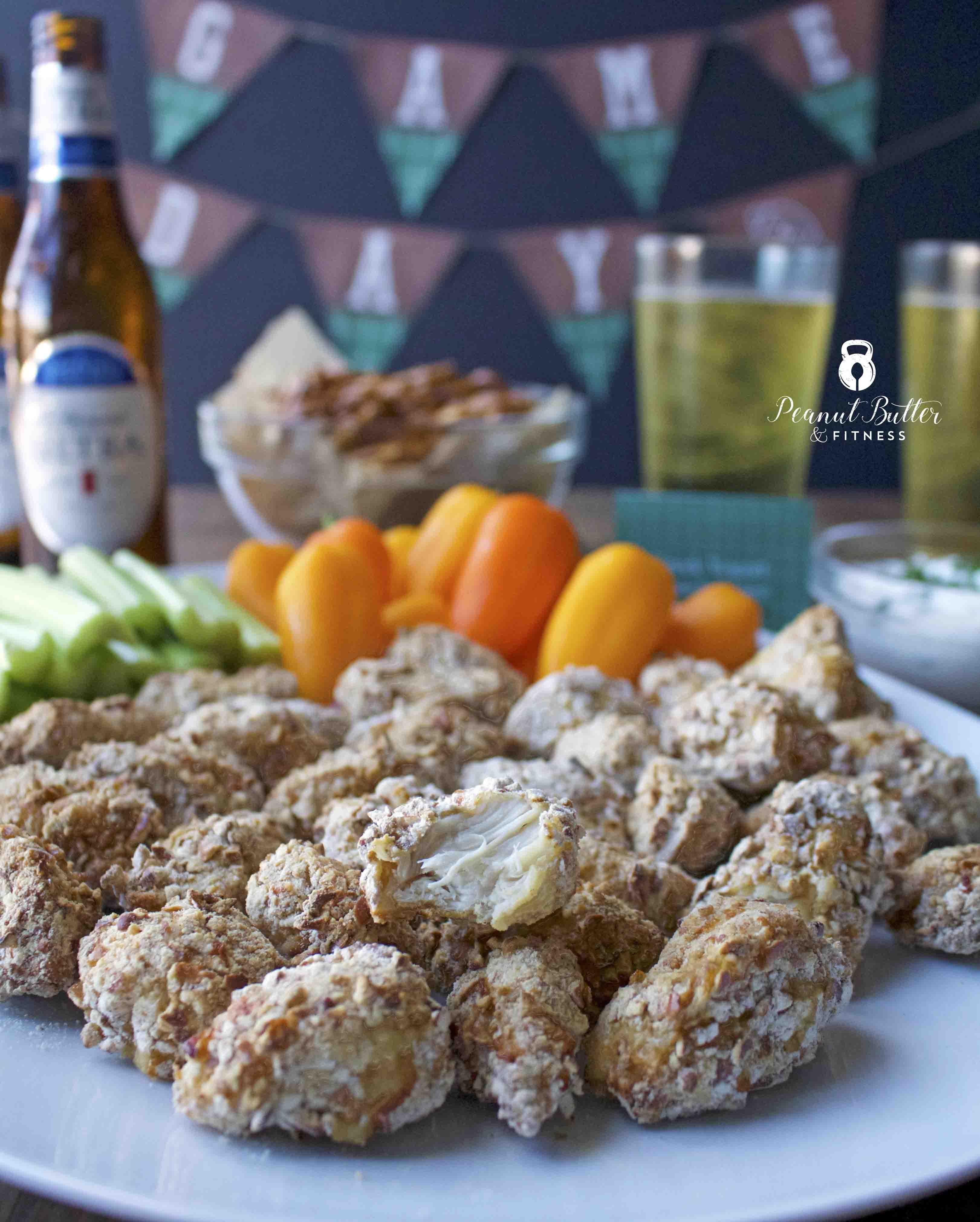 We are only 8 days away from Super Bowl Sunday! What's on the menu for your party?? I love a good spread of finger foods for game day, but you know I like to make sure I'm still getting my protein in. That's why I whipped up these Air Fryer Pretzel Crusted Chicken Bites! The pretzels really do add a layer of extra flavor that you would miss out on with regular old bread crumbs. Plus you get the added benefit of an extra snack for the table – pretzels!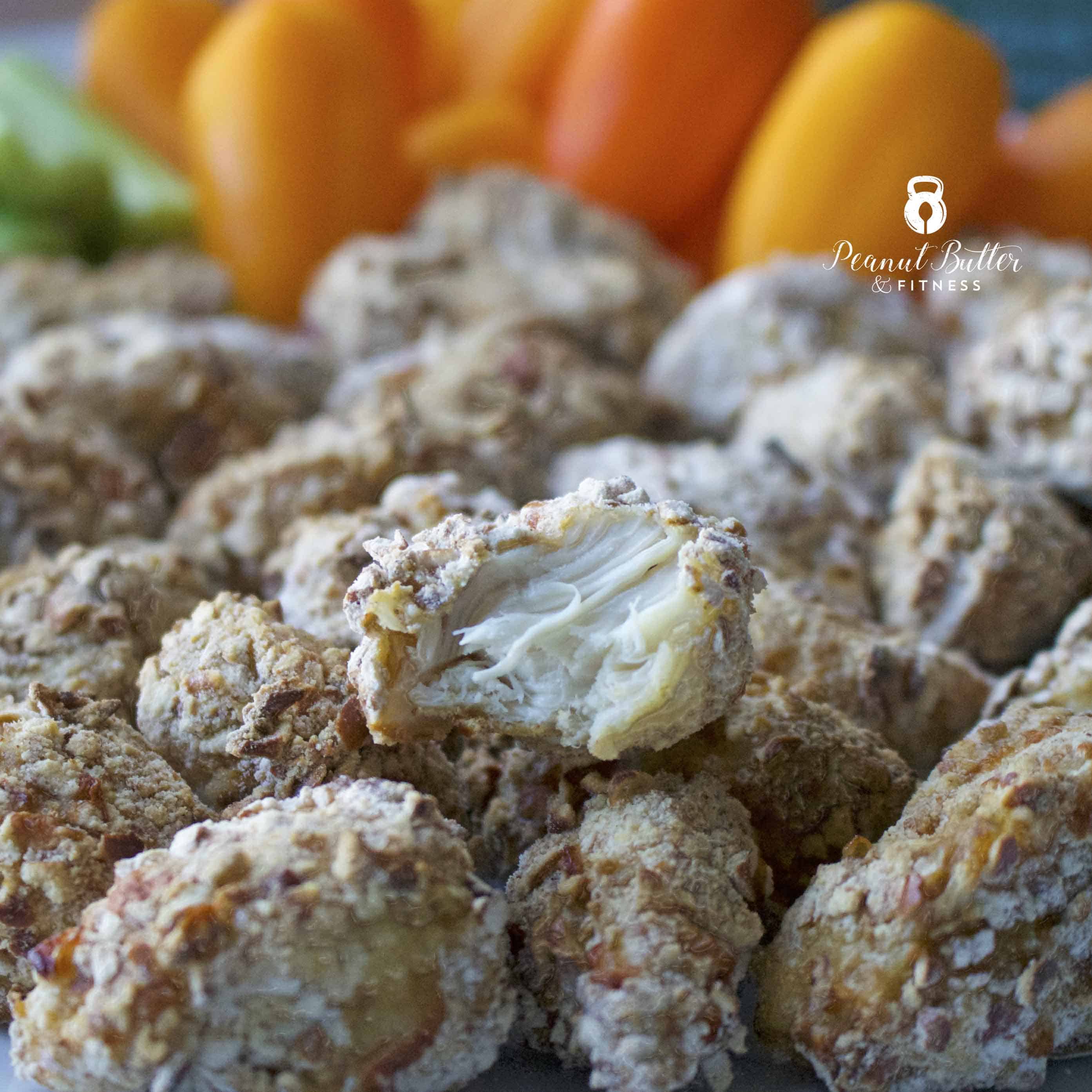 I used chicken tenderloins for these chicken bites because they are so much better to bite into than chicken breast. They pull apart easily, making them perfect for finger food. If you don't have an air fryer, you can certainly bake them in the oven BUT…let's be real. You should just jump on the air fryer band wagon. They are awesome and make some amazing crispy, crunchy snacks. This is the air fryer I have!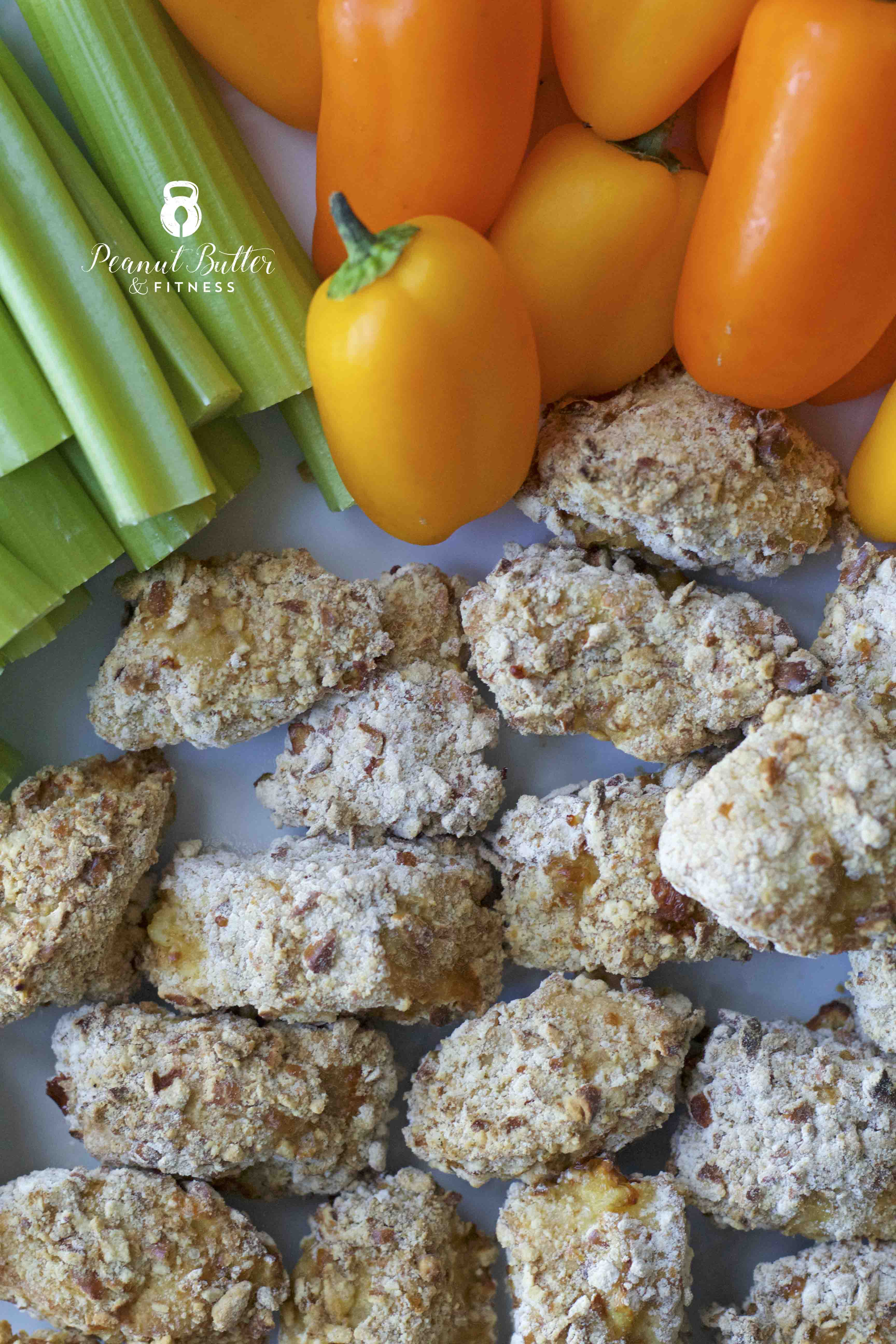 Don't forget to add some veggies and dipping sauces on the side! I made a spicy Korean ketchup and a Greek yogurt ranch dip. I also printed off some Game Day pennants and little customizable food tents. You can get those here!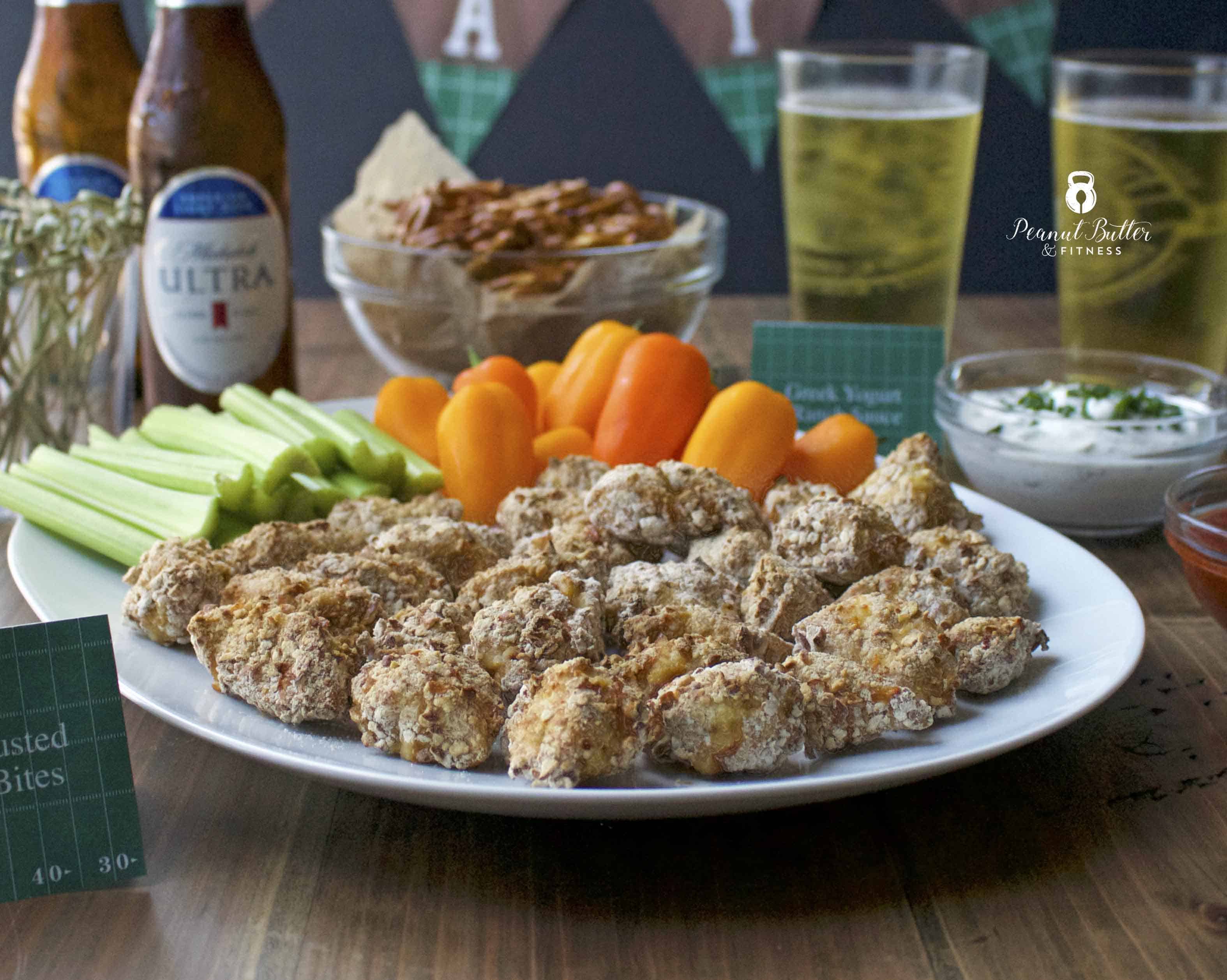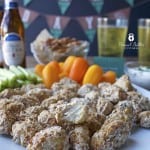 Air Fryer Pretzel Chicken Bites
Prep Time 20 minutes
Cook Time 8 minutes
Total Time 28 minutes
Servings 7 servings (about 5 pieces per serving)
Calories per serving 106 kcal
Ingredients
1 lb chicken tenderloins
1 cup pretzels (40 grams)
1 large egg
3 tbsp whole wheat flour (21 grams)
1/2 tsp salt
1/2 tsp pepper
1/4 tsp paprika
Instructions
Cut chicken tenderloins into bite size pieces. Pre-heat air fryer to 400 degrees.

Add eggs to a small shallow dish and whisk. Set aside.

Add pretzels, flour, salt, pepper, and paprika to a food processor and pulse until the pretzel pieces are roughly 1/8″ diameter or smaller. Pour into a shallow dish.

Dip chicken pieces into eggs, then dip into pretzel mixture and press the flour coating onto the chicken. Repeat with all chicken pieces.

Arrange coated chicken pieces in air fryer in a single layer, trying to avoid having them touch (you may need to do this in more than one batch). Spray lightly with coconut or olive oil. Air fry for about 8 minutes or until golden brown.

Serve with dipping sauces and fresh veggies.
Nutrition Facts
Air Fryer Pretzel Chicken Bites
Amount Per Serving
Calories 106 Calories from Fat 18
% Daily Value*
Fat 2g3%
Cholesterol 72mg24%
Sodium 147mg6%
Potassium 37mg1%
Carbohydrates 7g2%
Fiber 1g4%
Protein 16g32%
* Percent Daily Values are based on a 2000 calorie diet.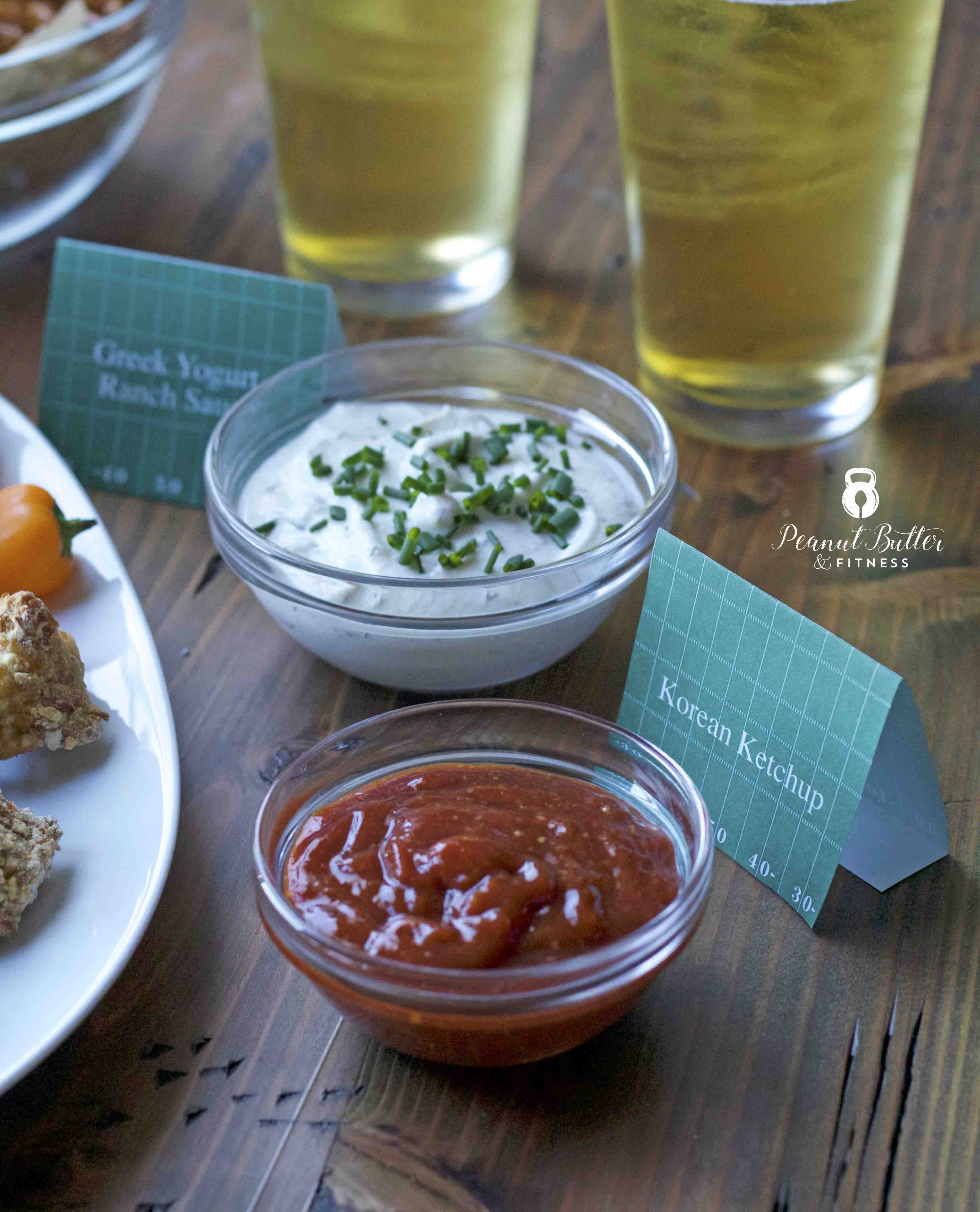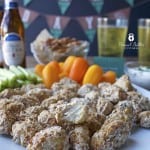 Korean Spicy Ketchup
Prep Time 5 minutes
Total Time 5 minutes
Ingredients
1/4 cup ketchup (2 oz)
2 tbsp gochuchang (1 oz)
1 tbsp brown sugar (11 grams)
1/2 tbsp low sodium soy sauce (0.25 oz)
1 tsp grated ginger (2.3 grams)
1/4 tsp garlic powder
Instructions
Mix all ingredients and serve.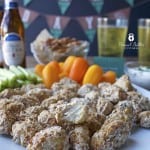 Greek Yogurt Ranch Dip
Prep Time 5 minutes
Total Time 5 minutes
Ingredients
5.3 oz plain, non-fat Greek yogurt
1 tsp fresh chopped dill
1 clove garlic, grated
1 tsp Flavor God Ranch Seasoning
1/2 tsp parsley
1/4 tsp pepper
Optional: Fresh chives for topping
Instructions
Mix all ingredients and serve.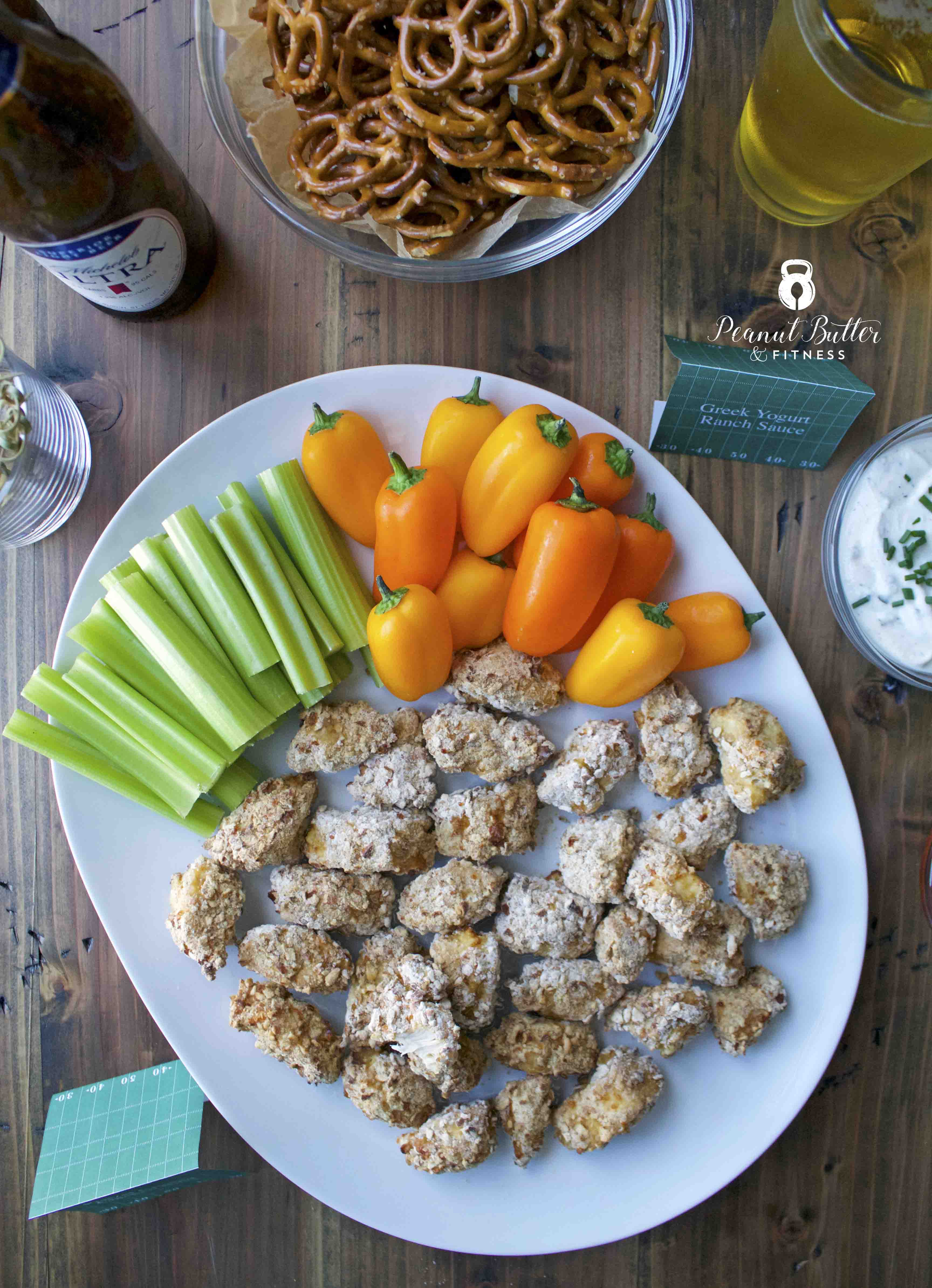 Note: This post contains affiliate links. If you purchase anything from Amazon after clicking through these links, I'll earn a small commission (usually just a few pennies) from your purchase. Your purchase price will be the same whether you use my affiliate links or navigate to Amazon independently.