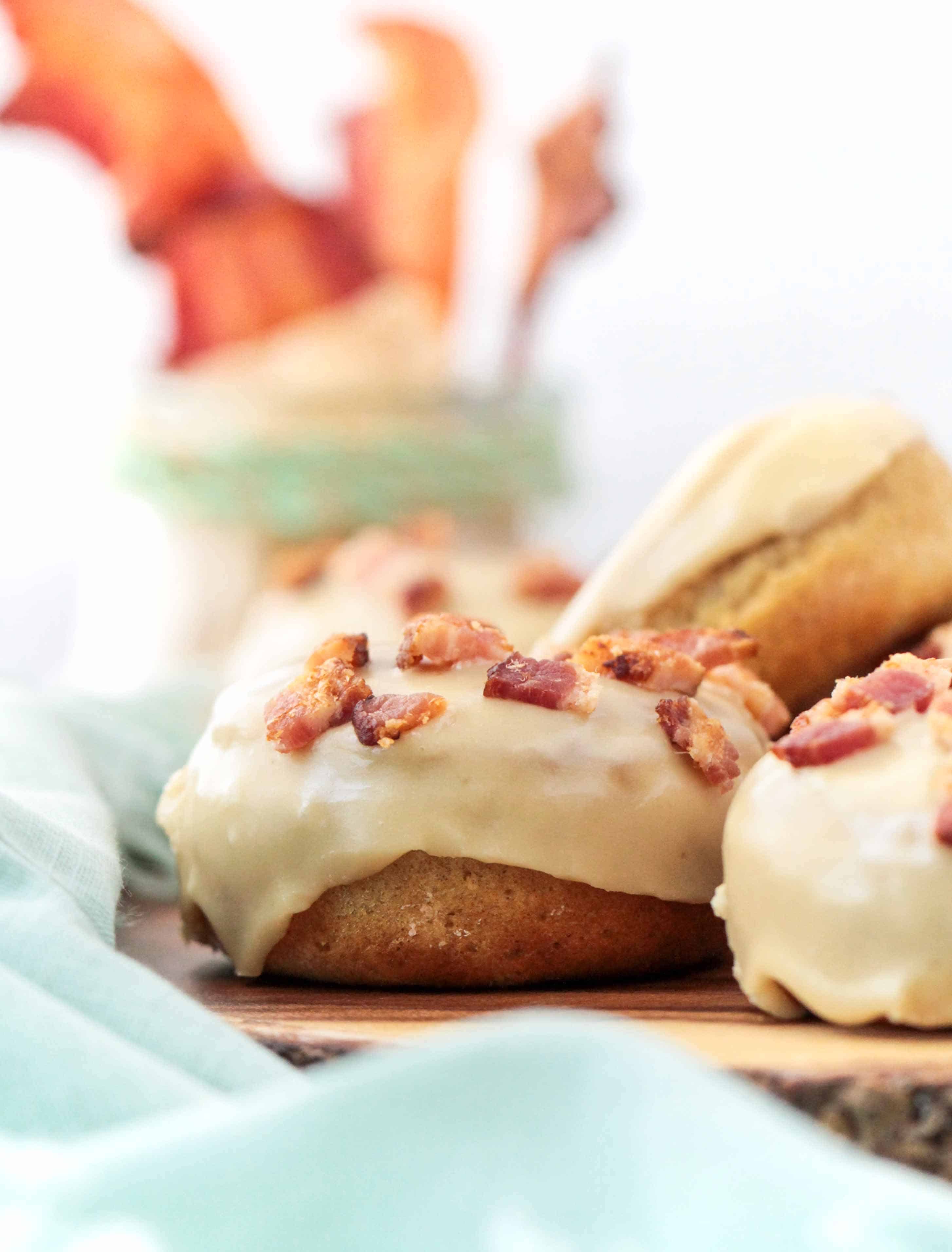 Jump to Recipe
Sweet and salty is one of the best things in the culinary world, and maple with bacon is the perfect flavor combo to satisfy those cravings. These Air Fryer Maple Bacon Donuts have a frosting that's akin to maple fudge, topped off with salty little gems of bacon (*insert heart eye emoji here*). And it all sits on an air-fried mini donut base that has a healthy kick of protein and whole grains! Yeah, you'll want to try these.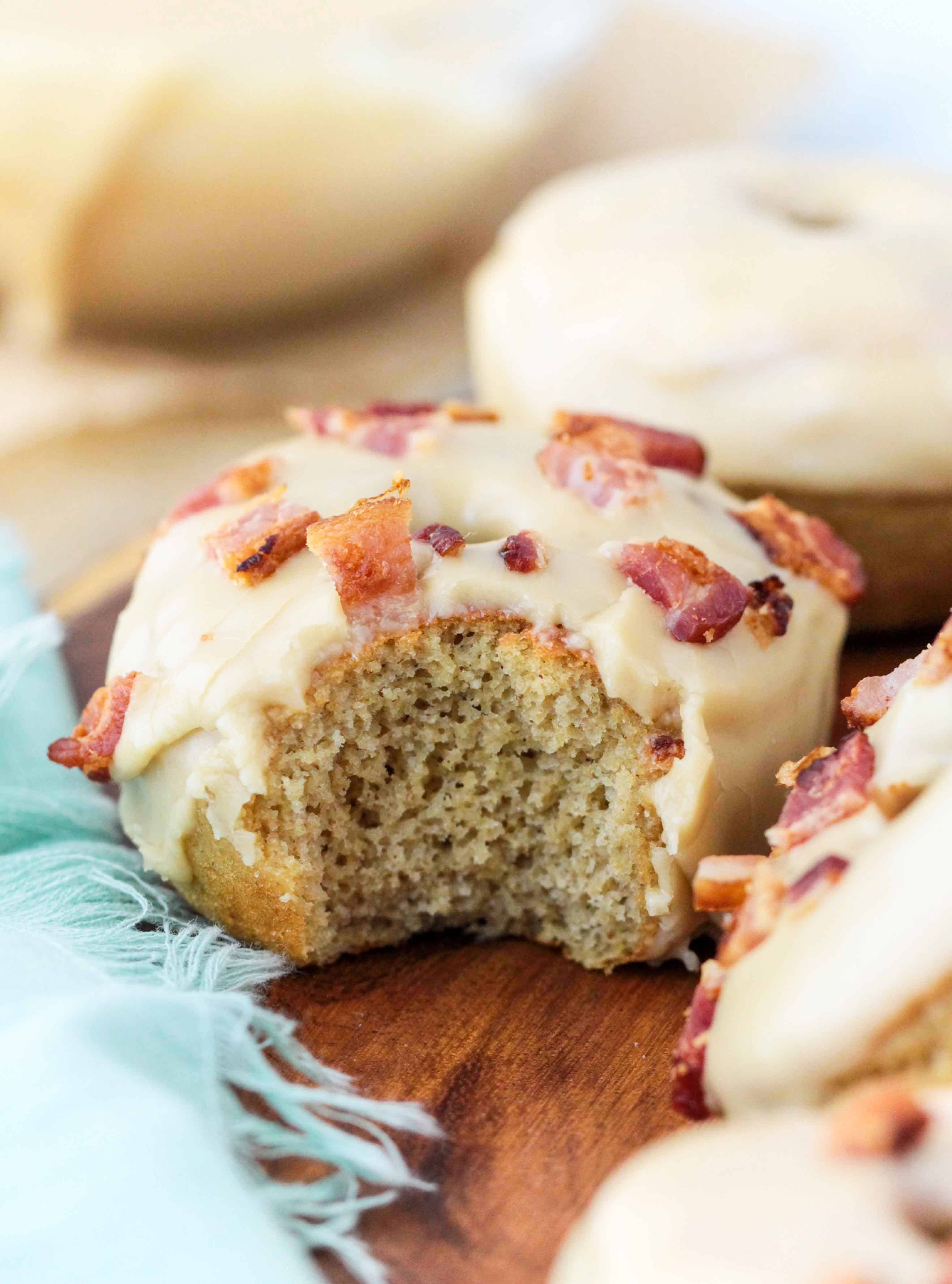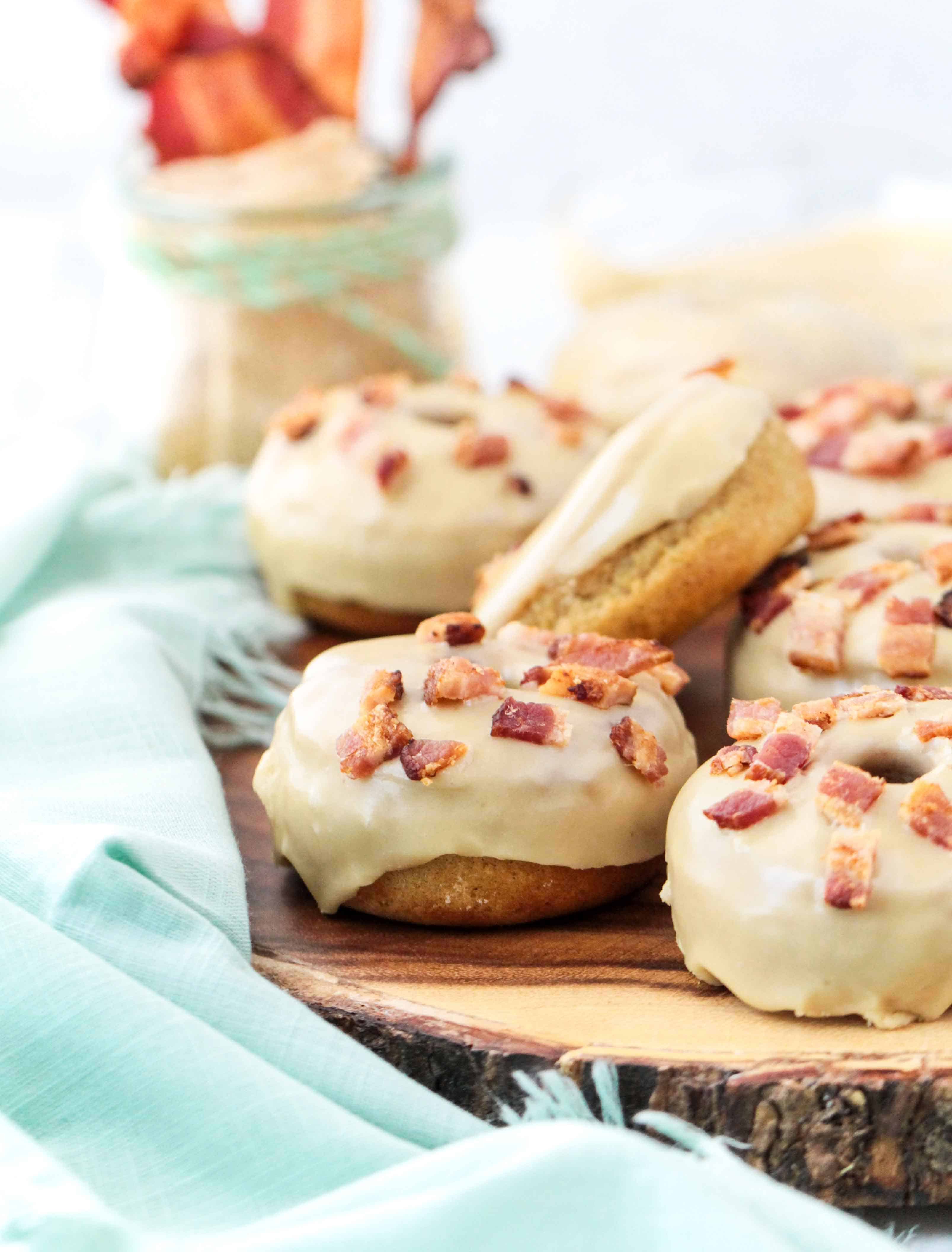 If you're not totally sold on the "bacon on my donut" thing, then you should definitely use regular cut bacon instead of thick cut. The thick cut bacon I used is for the bacon lovers out there! Thinner cut bacon will crumble a little more easily and although it will still give you the perfect salty and sweet bite, it will be less obvious that there's meat on your donut 😉
A note on cooking the bacon – I used the air fryer to keep things easy since I was going to be using it to bake the donuts anyway. You could use whatever method you prefer…pan fry, oven bake, microwave. Anything that gets you mostly crispy bacon! Aren't these strips gorgeous?? After frying these up in my air fryer, I saved the bacon grease and stuck it in the fridge to use for cooking up eggs later. Yum.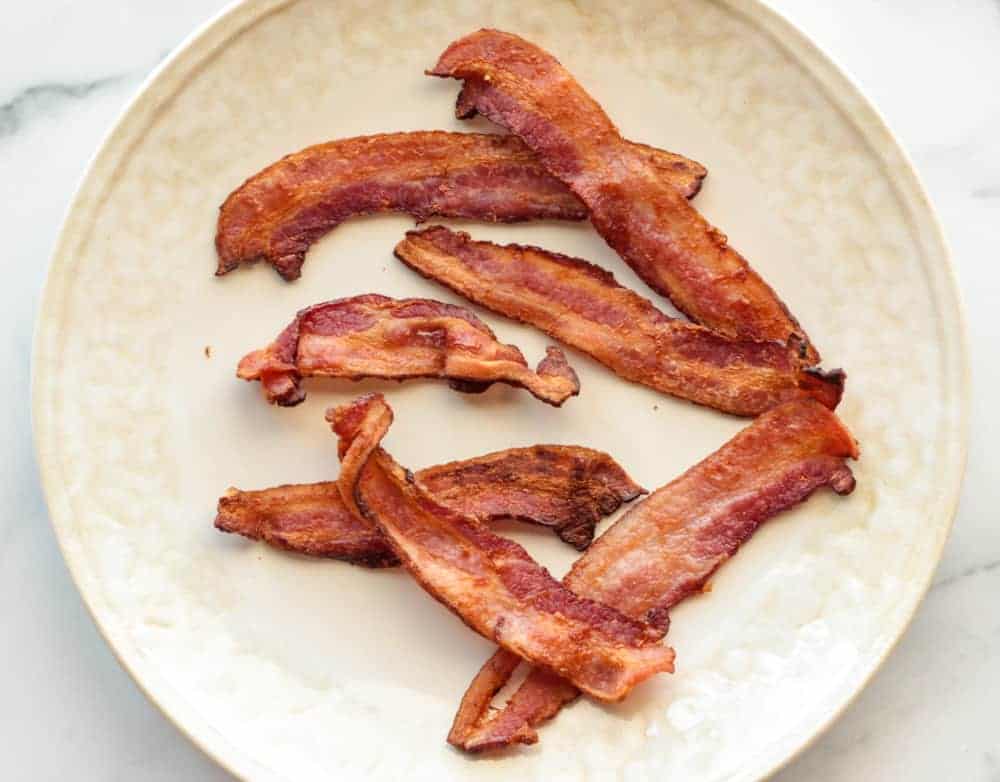 Would you look at that frosting?! It's honestly one of my favorite donut frostings I've ever made. Maybe I should be embarrassed by this, but I made a double batch of it (just in case there were any SNAFUs while photographing)…and because the refrigerated leftovers basically turned into maple fudge, I ate this stuff by the spoonful for several days. So. Damn. Good.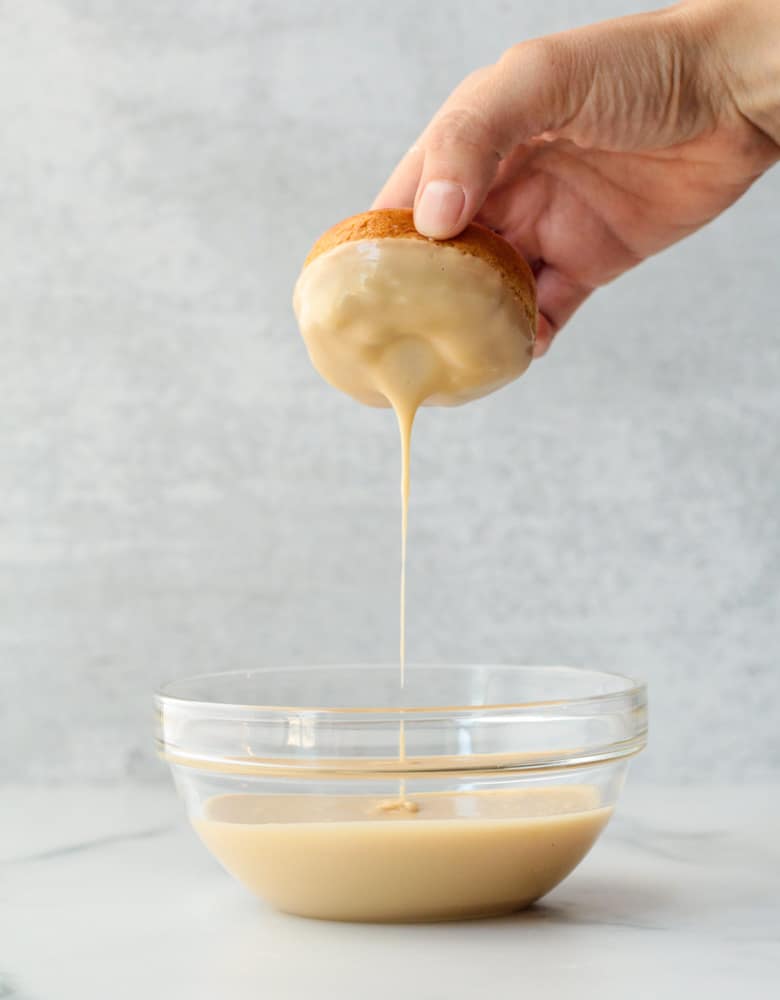 Enjoy!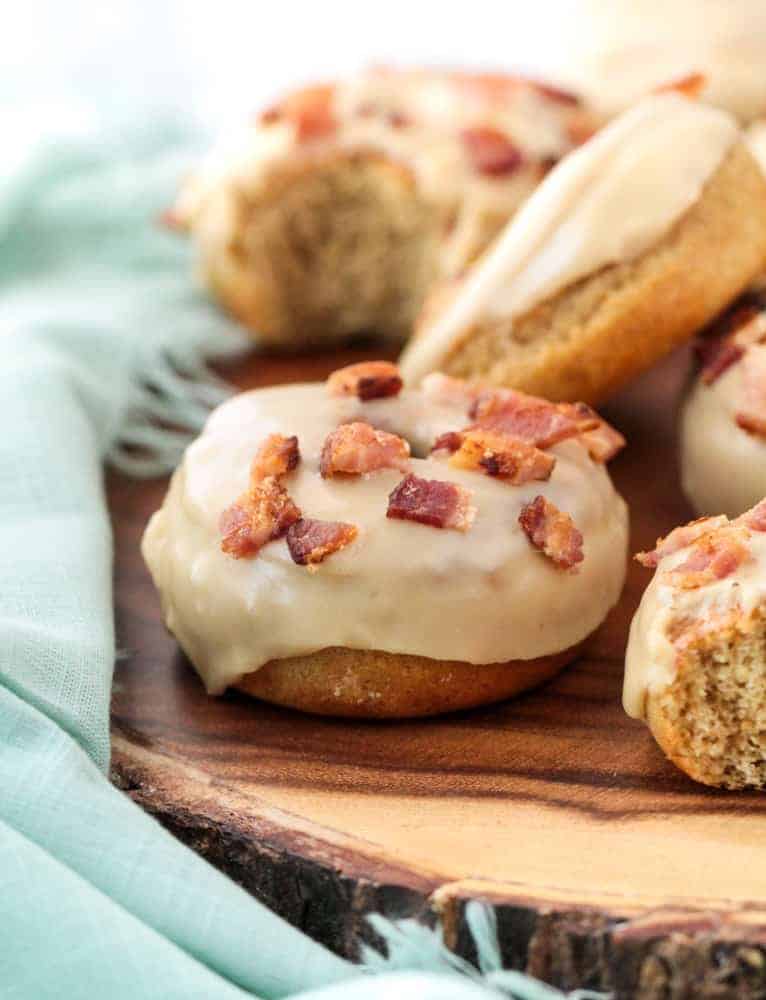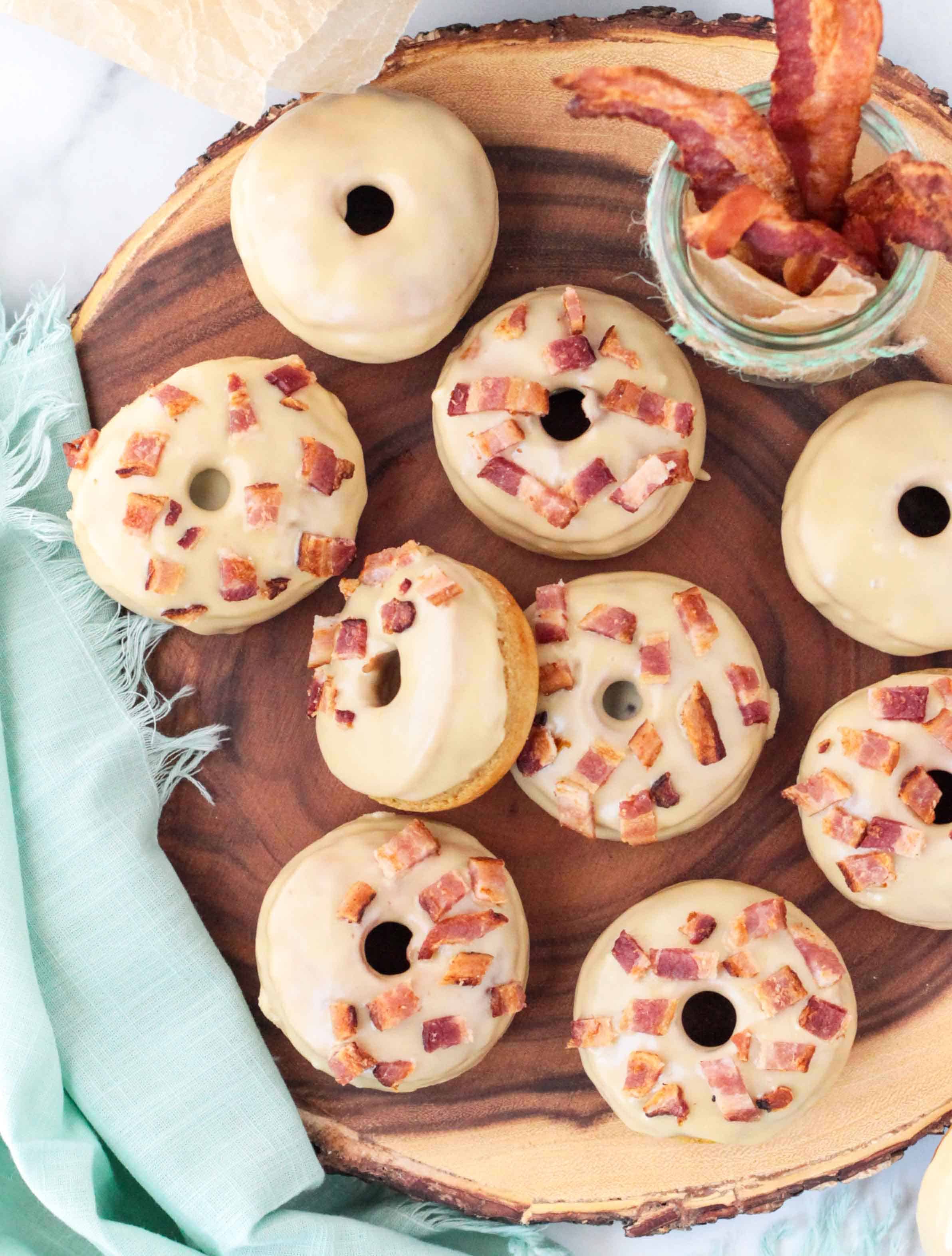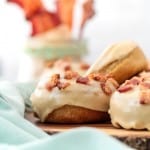 Air Fryer Maple Bacon Donuts
Prep Time 15 minutes
Cook Time 6 minutes
Total Time 21 minutes
Servings 10 mini donuts
Calories per serving 188 kcal
Ingredients
Donuts
3/4 cup King Arthur White Whole Wheat Flour (90 grams)
1 1/2 scoops Cellucor Whipped Vanilla Whey Protein (47 grams)
3 tbsp light brown sugar (36 grams)
1/2 tsp baking powder
1/2 tsp baking soda
1/4 tsp salt
1/8 tsp nutmeg
1/4 cup unsweetened vanilla almond milk (2 fl oz)
1/4 cup Dannon Light and Fit Vanilla Greek Yogurt (2 fl oz)
1 egg
2 tbsp unsalted butter, melted (1 oz)
1 tsp vanilla extract
Toppings
3 slices thick cut bacon (36 grams cooked)
1 cup powdered sugar, sifted (120 grams)
2 1/2 tbsp maple syrup (1.25 fl oz)
1 1/2 tbsp unsalted butter (0.75 oz)
1 tbsp unsweeetened vanilla almond milk (use more as needed to thin the frosting)
1/4 tsp maple extract (optional)
Instructions
Air fry the bacon at 400 degrees for 6-8 minutes, flipping about about halfway through. Set aside to cool on a plate lined with a paper towel before chopping into small pieces (1/4" to 1/2" in size).

Mix all dry donut ingredients, then add wet ingredients and mix until just combined.

Scoop donut batter into a piping bag or Ziploc bag and cut off the tip of the bag so you get about a 3/4" opening. Pipe the batter into 10 mini-silicone donut molds, filling the molds about 3/4 of the way to the top.

Air fry the donuts at 340 degrees for 6 to 7 minutes or until a toothpick inserted into the thickest part of the donut comes out clean. Remove donuts from the silicone mold and place on a cooling rack.

While the donuts cook, prepare the frosting. Melt the butter and maple syrup together in a small saucepan over low heat, whisking occasionally. Once melted, remove from heat and whisk in the sifted confectioners' sugar, almond milk, salt, and maple extract.

After the donuts have cooled slightly (but are still warm), dip them into the frosting. You may need to keep the frosting over a warm oven or burner to keep it from thickening too quickly. Place donuts back onto cooling rack as frosting sets.

While the frosting is still wet, sprinkle bacon pieces onto each donut and press lightly into the frosting. Allow the frosting to set up for 30 minutes to an hour – you can speed it up by putting the donuts in the refrigerator.
Recipe Notes
Oven instructions: if you don't have an air fryer, you can pipe the donut batter into a silicone donut tray like this and bake at 350 degrees for 18 minutes for regular size donuts. Mini donuts will need only about 10-12 minutes to bake.
Using regular bacon instead of thick cut: air fry at 370 degrees for 6-8 minutes, flipping halfway.
Nutrition Facts
Air Fryer Maple Bacon Donuts
Amount Per Serving (1 donut)
Calories 188 Calories from Fat 54
% Daily Value*
Fat 6g9%
Cholesterol 38mg13%
Sodium 160mg7%
Potassium 14mg0%
Carbohydrates 25g8%
Fiber 1g4%
Sugar 19g21%
Protein 7g14%
* Percent Daily Values are based on a 2000 calorie diet.