This recipe is one of my all-time favorites to make.  It's super easy, healthy and still has tons of flavor.  I'd have to say that "southwestern" is probably my favorite food genre…yummmmmmmy. This recipe is almost completely copied from Skinny Taste, my absolute fave food blog.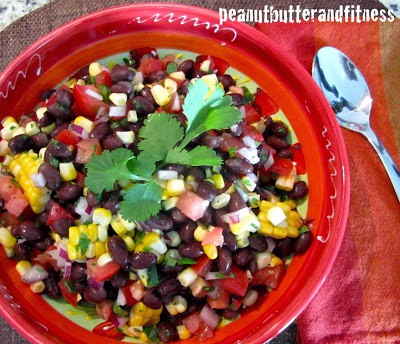 Cutting onions is one of my least favorite things to do while cooking, especially red onions.  Bleh.  Half the time I just buy the pre-cut ones at the store but they're just not as good as fresh 🙁  So I used my mandolin cutter to help make the process a little faster. This might be the first I've used it since my previous near death experience with it.  Well, I cut a chunk off my thumb and passed out while trying to find band-aids, but close enough.  And I've got the scar to prove it!  Lesson learned: use the little safety guide (bottom left) whether you think you need it or not.  You need it.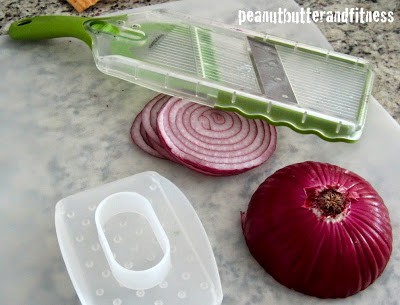 I changed up the amount of corn in the salad because I enjoy corn a lot, and I roasted it on my stupid little George Foreman grill.  I say stupid because it's a pain in the butt to clean, and I'm all about easy clean-up.  You can use the frozen bagged corn, but this is just mo' better.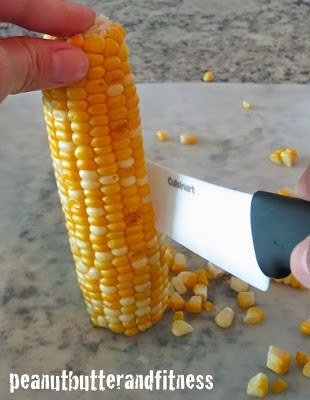 Cut up any green onions you don't use and toss them into a plastic water bottle.  Then freeze.  Boom, easy as that.  They're not as good as fresh but are super easy, especially when you only need a little bit or are using it with cooked food.
Anyways, here's the recipe, copied from Skinny Taste:
Southwestern Black Bean Salad
Skinnytaste.com
Servings: 13 • Size: 1/2 cup • Old Points: 1 • Weight Watcher Points+: 2 pt 
Calories: 79.5 • Fat: 3.5 g • Carb: 12 g • Fiber: 3 g • Protein: 3 g • Sugar: 1 g
Sodium: 127 mg (without the salt) • Cholest: 0 mg
Ingredients:


15.5 oz can black beans, rinsed and drained
9 oz cooked corn, fresh or frozen (thawed if frozen)
1 medium tomato, chopped
1/3 cup red onion, chopped
1 scallion, chopped
1 1/2 – 2 limes, juice of
1 tbsp olive oil
2 tbsp fresh minced cilantro (or more to taste)
salt and fresh pepper
1 medium hass avocado, diced 
1 diced jalapeno (optional)

Directions: 

In a large bowl, combine beans, corn, tomato, onion, scallion, cilantro, salt and pepper. Squeeze fresh lime juice to taste and stir in olive oil. Marinate in the refrigerator 30 minutes. Add avocado just before serving.

Makes about 6 1/2 cups.
Since a lot of the time I'm making this for just me, or I'm using it for meal prep, I keep the avocado out of the game until I'm ready to eat it.  The best way that I've found to use avocado in any meal prep is to either take it to work with me whole and cut it up there, but usually I don't need the whole thing at once so I just cut it in half, take out the seed and put a few drops of lime juice on the cut side.  Then I wrap it really tightly in foil (face down flat on the foil) and toss it in a plastic bag.  When I'm ready to eat it all I have to do is scrape off the little bit of brown avocado on the surface.
I love pairing this with lime and cilantro shrimp!!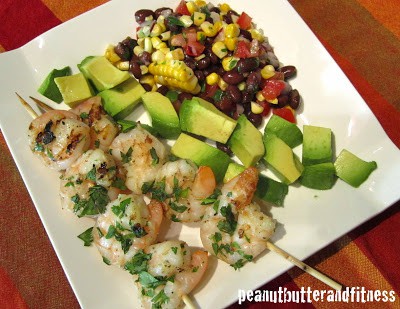 Reader Interactions