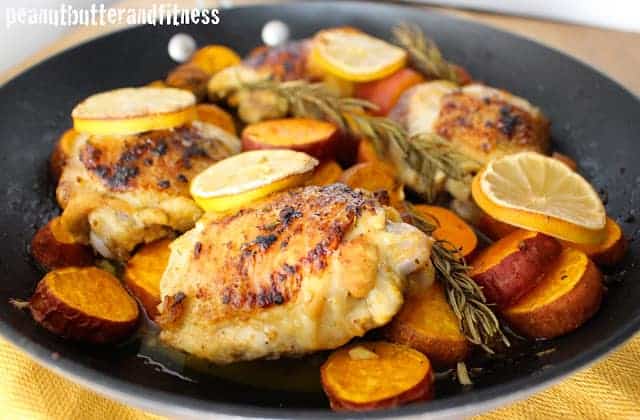 Who wants this for dinner?? I know I do.  It's actually really easy to make and it will make your mouth water even as it's cooking in the oven…the garlic, rosemary and lemon combine to make a perfect aromatic buffet for your nose.  But then when you take it out of the oven…And get to eat it…YUM! The chicken stays perfectly moist and retains a lot of flavor because the skin protects it while it's cooking.  All the juices in the pan combine to practically caramelize the sweet potatoes with a totally unique flavor that's partly tangy, partly sweet, and totally delicious.
(BTW, check out the end of the post for a fun chat about hydration 🙂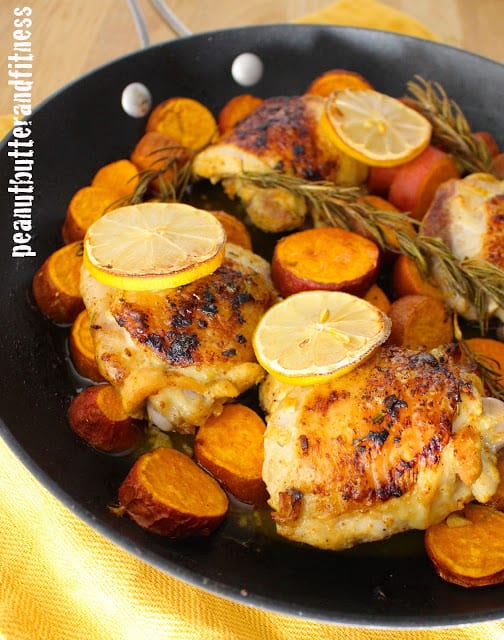 This is my first time working with chicken thighs – I don't normally use them because they're higher in fat content than plain old chicken breasts even if you remove the skin.  Before adding these to the pan I did trim off a little bit of the fat.  Basically all I left on there was the top layer and maybe a little bit on the sides to make sure it would hold in flavor and moisture while cooking.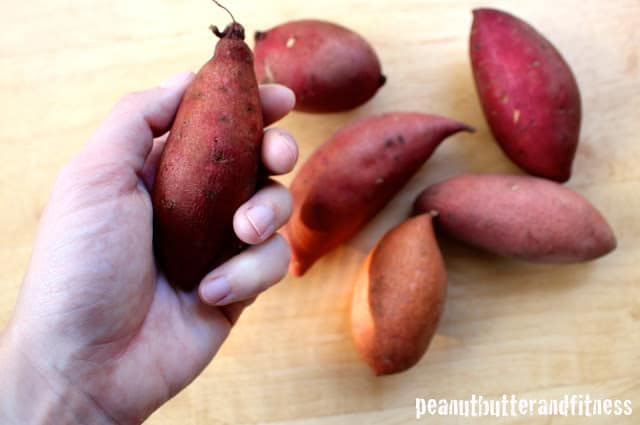 So when I was at the grocery store about to pick up a few giant sweet potatoes that would require lots of chopping, I spotted these little guys.  They're called Yammies!  Essentially just baby sweet potatoes that all you have do do is slice and you're ready to cook!  If you can't find these at your grocery store, you can just buy long, narrow sweet potatoes and slice them like I did or chop your larger sweet potatoes into 1″ cubes.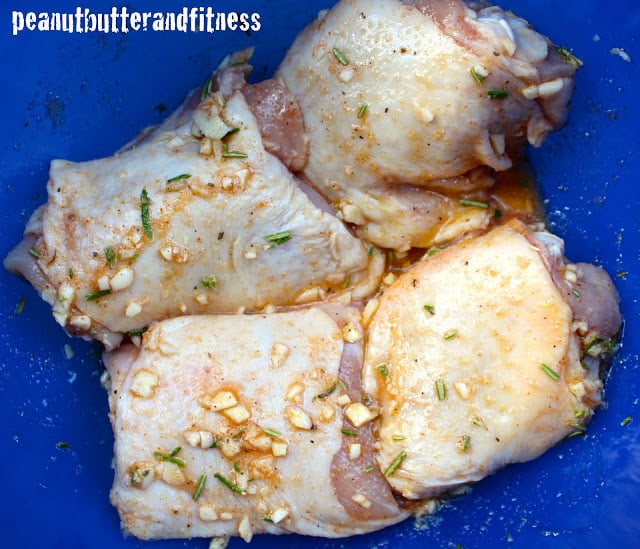 Tossing 2/3 of the lemon juice/oil mix with the chicken…really try to work it into the chicken and get some garlic and rosemary stuck to that skin before sticking it into the pan skin side down.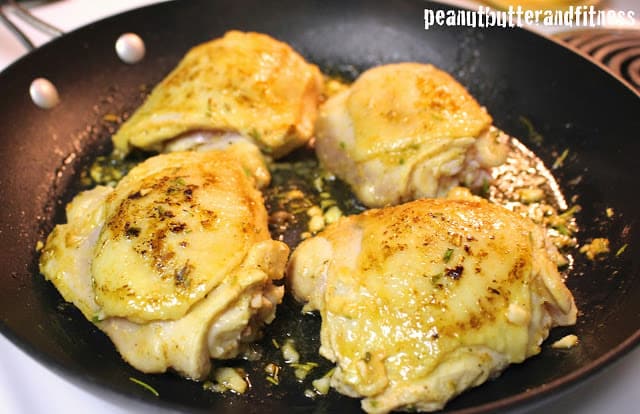 Get a slight browning on the skin before flipping the chicken, removing from heat and adding the sweet potatoes, lemon slices and rosemary sprigs.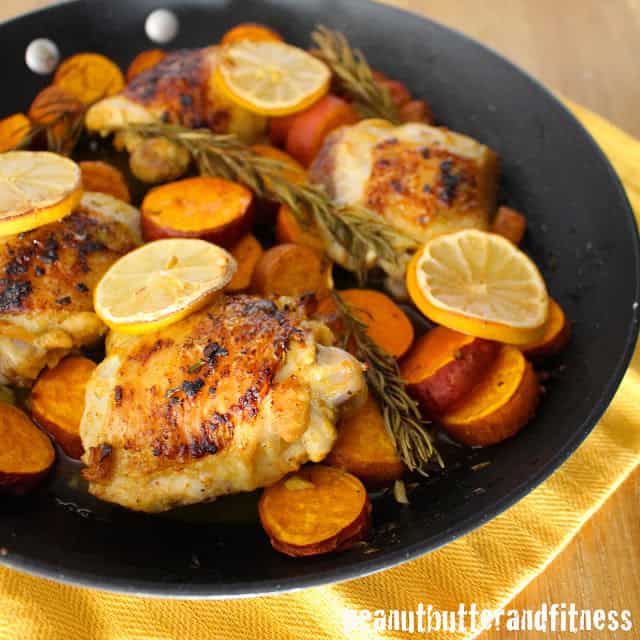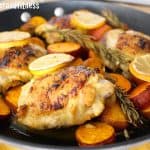 Rosemary Lemon Chicken and Sweet Potato Skillet with Asparagus
Prep Time 15 minutes
Cook Time 45 minutes
Total Time 1 hour
Servings 4 servings
Calories per serving 299 kcal
Ingredients
4 ea chicken thighs (bone and skin on) (approx. 2.25 lbs)
2 cups cubed sweet potatoes
2 tbsp olive oil divided
1 tbsp chopped + 4 sprigs fresh rosemary
2 tsp FlavorGod Lemon & Garlic Seasoning
4 cloves garlic minced
Juice of 1 lemon
1 lemon sliced
1 bunch asparagus (approx. 30 spears)
Instructions
Mix 1 tbsp olive oil, 1 tbsp rosemary, FlavorGod seasoning, garlic and lemon juice.  Toss about 2/3 of mix with chicken in a large bowl, then remove the chicken, add sweet potatoes and remainder of mix and toss until evenly coated.

Pre-heat oven to 400 degrees.

Heat 1/2 tbsp olive oil in oven safe skillet.

Add chicken, skin side down and cook until browned, about 3-4 minutes.

Add sweet potatoes, lemon slices and rosemary sprigs, ensuring the chicken is not covered by potatoes.  Move skillet to the oven.  Cook for 20 minutes before adding asparagus to oven.

On a foil lined baking sheet, toss asparagus with remaining 1/2 tbsp olive oil and more Flavor God seasoning.  Add asparagus to oven and cook for an additional 15-20 minutes or until the chicken reaches an internal temperature of 165 degrees.
Nutrition Facts
Rosemary Lemon Chicken and Sweet Potato Skillet with Asparagus
Amount Per Serving
Calories 299 Calories from Fat 126
% Daily Value*
Fat 14g22%
Cholesterol 85mg28%
Sodium 221mg10%
Carbohydrates 21g7%
Fiber 5g21%
Sugar 4g4%
Protein 22g44%
* Percent Daily Values are based on a 2000 calorie diet.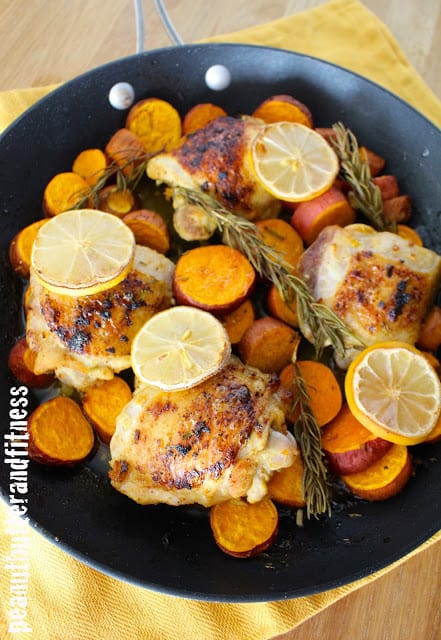 Let's chat about water for a moment, shall we?  Someone recently told me that they only pee once every 6-8 hours (ehem, you know who you are).  It boggles my mind a little bit that that's the norm for an otherwise healthy adult in a first world country.  Now, I'm no doctor but most medical sites like WebMD suggest that you should pee 6-8 times a day.  So 24 hours a day divided by 8 is 3 and 24 hours divided by 6 is 4.  Meaning that hitting the bathroom every 3-4 hours is "normal" (more often if you don't get up to go at night).  I usually aim for 100-120 oz of water every day, which is within the recommended 0.5oz to 1oz of water per pound of body weight, so I'm there more often, but let's just take a look at what dehydration does to your body:
WebMD
 – Water and Your Diet: Staying Slim and Regular with H2O

Ok, rant over. Now go drink some water 🙂